Pomegranate Lamb Shank
When we first made this dish, we noted that it was good but a lot of effort. In this year's Bon Appetit food cleanse, they included a recipe with a suspiciously-similar flavor profile but significantly less work. We tested it out and it was good and pretty easy. The lamb still has to braise for like 4 hours in the oven, but the prep beforehand is very simple. Great for a snowzilla of a day!
Serves 4
1 teaspoon coriander seeds
½ teaspoon cumin seeds
½ teaspoon fennel seeds
¼ teaspoon red pepper flakes
Pinch of saffron (optional)
Kosher salt, freshly ground black pepper
2 lamb shanks (about 2½ pounds)
1 tablespoon cornstarch
1 tablespoon olive oil
1 medium red onion, cut into 1-inch wedges
2 medium carrots, cut into 2-inch pieces
1 large leek, white and light-green parts only, cut into 2-inch pieces
1 cinnamon stick
8 sprigs thyme
1½ cups pomegranate juice
1½ cups homemade chicken stock, low-sodium canned, or water
¼ cup pomegranate seeds
¼ cup mint leaves
Flaky sea salt
Preheat oven to 350°.
Coarsely grind coriander seeds, cumin seeds, fennel seeds, red pepper flakes, saffron, 1 tsp kosher salt, and black petter to taste with mortar and pestle.
If there is an opaque white layer enrobing shanks, remove by cutting it a bit at the edge, then pulling at the corner: It should come off with a little coaxing. Do not remove iridescent membrane below, which holds the meat together.
Sprinkle shanks with coriander mixture, then let rest at least 30 minutes or up to overnight.
Thirty minutes before you want to cook them, dredge shanks in cornstarch, shaking off any excess.
Heat oil in a large heavy braising dish or Dutch oven over medium.
Add shanks and cook until browned on all sides, 10–12 minutes.
Transfer shanks to a platter or baking dish.
Add onion, carrots, and leek to pan.
Cook, stirring and scraping up any brown bits that have accumulated, 1 minute.
Add cinnamon and thyme and pour in pomegranate juice and stock.
Scrape pan again, then bring mixture to a simmer.
Return shanks to pan and season with kosher salt and black pepper.
Cover pot and transfer to oven.
Braise 1½ hours, then check liquid level, making sure there is at least 1" stock in pan; if not, add water or stock to bring it up to that mark.
Continue braising until meat is completely tender and falling off the bone, about 2½ hours.
Using a slotted spoon, transfer meat and large chunks of vegetables to a plate.
Discard thyme and cinnamon stick.
Using a spoon, skim off as much fat as possible from the surface; tilting the pan a bit can help with gathering fat. Alternatively, scoop out sauce and use a gravy strainer to remove excessive fat.
Serve lamb pieces off the bone with some sauce and top with pomegranate seeds, mint leaves, and flaky sea salt.
Note: can be made ahead. To serve, bring liquid to a simmer and cook meat and vegetables until warmed through.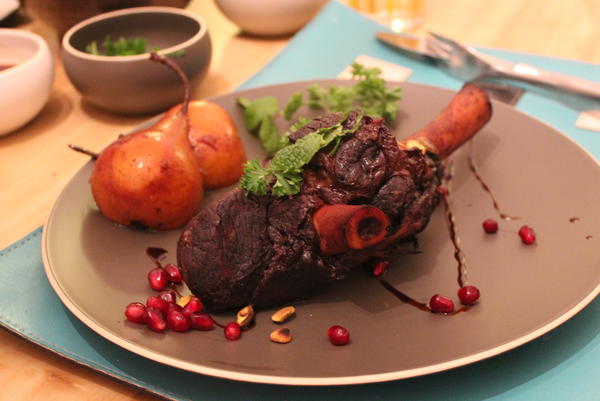 Season:

Cuisine:

Recipe: Course:

Recipe: Main Ingredient: