Potato Latkes
Audrey's family's latke recipe with a few process tips taken from Cook's Illustrated and the Los Angeles Times.
See also the kitchn for an actual recipe. Closer to hashbrowns than pancakes. Serve with applesauce and sour cream.
Makes about 15 latkes.
Clean 2 lbs russet potatoes (~3 large) well. Don't skin.
Shred potatoes in food processor using flat shredder disk. Working in batches, put potato shreds back in food processor with chopper blade and lightly chop. Grate 1/2 cup onion.
Toss potatoes, onion, and 1 tsp salt in a bowl.
Working in medium-sized batches, squeeze as much liquid out of potato mixture as possible. Cook's Illustrated recommends putting mixture in a dish towel and twisting over a bowl to remove liquid. LA Times recommends putting mixture in a colander set over a bowl and kneading to remove liquid. With either method, reserve the liquid in a separate bowl and let stand for at least 5 minutes, so starch can settle at the bottom of the bowl.
In a new bowl, beat 2 eggs.
Pour off and discard water from reserved potato liquid (white starch will remain on bottom of bowl). Add eggs to starch and stir until smooth.
Add egg/starch mixture to potato mixture; add a bit of minced fresh parsley (if desired), 1/4 tsp pepper, a dash of paprika, a dash of garlic powder, and 1/4 cup breadcrumbs or matzoh meal. Toss until evenly combined.
Heat 1/4 inch vegetable oil in 12" skillet until shimmering but not smoking (350 degrees).
Place 1/4 cup mound of potato mixture in oil and press flat until 1/3" thick disk. Repeat until 5 latkes are in pan.
Fry latkes until golden brown on bottom, about 3 minutes. Flip and continue cooking until golden brown on other side, 3 more minutes.
(Make sure oil returns to temperature between batches. Also remove really burnt potato pieces as you go along.)
Drain latkes on wire rack (put over a paper towel-lined baking sheet).
Serve immediately or freeze in stacks.
If frozen or cooled, reheat at 375 degrees until crisp and hot, approx 10 minutes.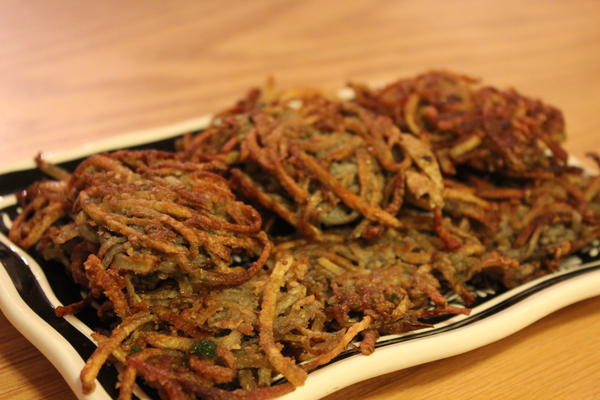 Season:

Cuisine:

Recipe: Course:

Recipe: Main Ingredient:

WikiTags: