Pumpkin Pie
We tried making pumpkin pies from scratch (like, starting with a pumpkin scratch), but we never quite got it to come out right. We've reverted to Jon's grandmother's closely-guarded recipe, which comes from the side of a Libby's can:
1 can Libby's pure pumpkin
1 can (12 oz) evaporated milk
2 large eggs
¾ cup sugar
½ tsp salt
1 tsp cinnamon
½ tsp ginger
¼ tsp cloves
¼ tsp allspice (optional)
1 pie crust
Mix together sugar and spices in a small bowl.
In a large bowl, beat the eggs. Stir in pumpkin and mixed spices. Gradually stir in the evaporated milk.
Pour into pie shell, bake in a preheated oven at 425° for 15 minutes, then reduce to 325° and bake for 40-50 minutes or until a knife inserted near the center comes out clean.
Cool, and serve or refrigerate.
If you still want to make the filling from scratch:
Blue Hubbard Squash (You'll want 2 cups of mashed, roasted pumpkin meat per 9' pie), a small gourd will provide enough meat for 1-3 pies
1 1/2 cups (1 can) evaporated milk or cream
4 large eggs, beaten
Cinnamon 2 tsp
Nutmeg 1 tsp
Allspice 1 tsp
Ginger 1 tsp
Vanilla extract 1 tsp
Rum 1/2 oz
Take the pumpkin, remove the seeds and pith; chop the pumpkin into large segments and roast them in the oven on a greased sheet at 400F for 40 minutes, flipping once.
Drain of any water and scoop out the goop. Let cool.
Use a hand blender to puree the pumpkin until silky smooth. Use a strainer to let more water drip out.
Blend in the goop, evaporated milk and eggs
Mix in the dry spices to taste, around 2 tsp each, lighter on the cloves and ginger
Double boil (float a pot in a larger pot of lightly boiling water works fine) over medium-high heat, stirring occasionally to break up clumps, until thickened -- it should be the consistency of whipped cream cheese. Take off heat, stir in vanilla and rum while warm.
Bake in oven, 40 minutes at 375F or until a clean butterknife inserted into the middle comes out clean.
(Adapted from the Joy of Cooking)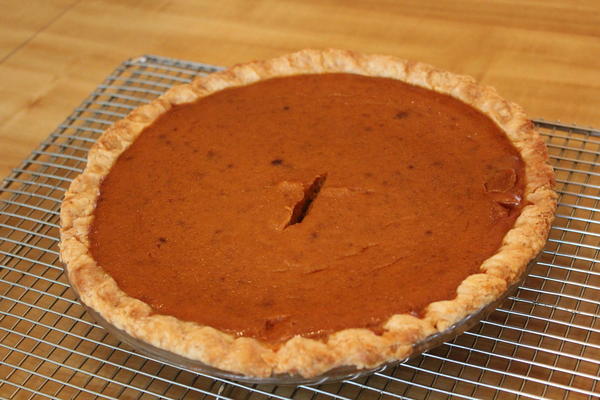 Season:

Cuisine:

Recipe: Course:

Recipe: Main Ingredient:

WikiTags: