Quinoa with Butternut Squash and Preserved Lemons
We hosted family for Thanksgiving this year and found ourselves innovating to accommodate a gluten-free family member. We very easily modified David Lebovitz's original recipe to create a delicious dish that everyone loved.
​1 1/2-pounds butternut squash, peeled and seeded
1 large onion, peeled and minced
1 cup quinoa (alternatively, for a gluten dish, use 1 3/4 cup Israeli couscous, or Italian pepe-style pasta)
1 small cinnamon stick
1 large or 2 small preserved lemons
1/2 cup golden raisins
1/4 cup dried cranberries
1/4 teaspoon ground cinnamon
1 cup chopped flat-leaf parsley
2/3 cup pine nuts, toasted in a dry skillet
Preheat the oven to 475F.
Cut the squash into 1/4-inch (1 cm) cubes and toss them with 1 tablespoon of olive oil and a seasoning of salt in a large baking dish or pan.

Cook on the upper rack of the oven until the squash is just tender, about 10 minutes. (Don't overcook.)

While the squash is cooking, heat 2 tablespoons of olive oil in a skillet and cook the onions over medium-high heat with a bit of salt until translucent.

As the squash and onions are finished, scrape them into a large bowl.

Follow the manufacturers instructions for cooking the quinoa (or Israeli couscous).

While the quinoa cooks, cut the preserved lemon in quarters and scoop of the insides, which you should reserve. Dice the lemon peel into very small pieces, add them to the squash, then press the reserved flesh through a strainer to extract the liquid, and add the liquid to the squash.

Drain, but don't rinse the quinoa. Discard the cinnamon stick.

Add the quinoa to the bowl of squash, then add the raisins and cranberries, ground cinnamon, parsley, and toasted pine nuts.
Serving: Serve warm, although it can also be served at room temperature.
Do-Ahead Tip: You can make this ahead, up to one day in advance, and rewarm it before serving. If so, leave the parsley and toasted pine nuts out, and mix them in right before serving.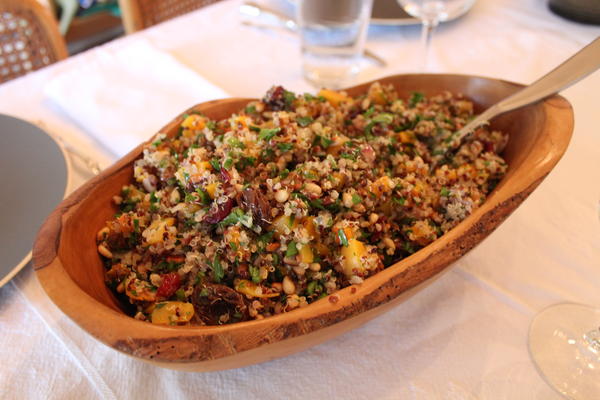 Season:

Cuisine:

Recipe: Course:

Recipe: Main Ingredient:

WikiTags: