Raw Kale and Brussels Sprouts Salad
This recipe from Bon Appetit uses raw kale and brussels sprout to make a delicious, nutty salad.
Serves 2 as a main, 4 as a side.
For the salad:
1/2 bunch of Tuscan or lacinato kale (about 1/4 lb), center stem discarded, leaves thinly sliced or shredded in food processor
1/2 pint of brussels sprouts, trimmed, finely sliced or shredded in food processor
1/2 cup almonds with skins, coarsely chopped
1/2 cup finely grated Pecorino
For the dressing:
1/4 cup fresh lemon juice
1/2 cup olive oil
2 tablespoons Dijon mustard
1 tablespoon minced shallot
1 small garlic clove, finely grated
1/4 teaspoon kosher salt plus more for seasoning
Freshly ground black pepper
Preparation:
Toast the almonds.
Head 1 Tbsp. oil in a small skillet and heat over medium-high heat.
Add chopped almonds to skillet and stir frequently until golden brown in spots, about 2 minutes.
Transfer nuts to a paper towel-lined plate.
Sprinkle almonds lightly with salt.
Prepare the dressing.
Combine lemon juice, olive oil, Dijon mustard, shallot, garlic, 1/2 tsp. salt, and a pinch of pepper in a jar.
Shake to blend.
Season dressing to taste with salt and pepper.
Mix thinly sliced kale and shredded brussels sprouts in a large bowl.
DO AHEAD:
Dressing, kale and brussels sprouts mixture, and toasted almonds can be prepared ahead and stored for about a week.
Cover dressing and kale mixture separately and chill.
Cover almonds and let stand at room temperature.
To serve, add dressing and cheese to kale mixture; toss to coat. Season lightly with salt and pepper. Garnish with almonds.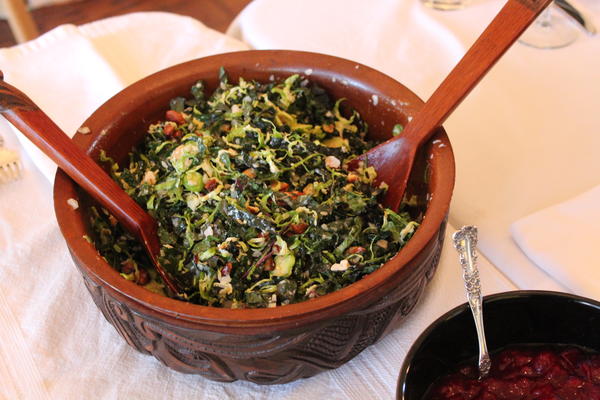 Season:

Cuisine:

Recipe: Course:

Recipe: Main Ingredient:

WikiTags: