Saag Paneer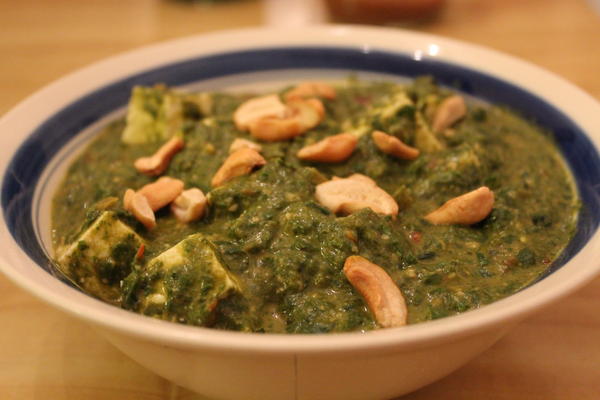 Courtesy of Cook's Illustrated.
Ingredients
1 (10 ounce) bag curly-leaf spinach, rinsed (roughly 6 cups)
3/4 lb mustard greens, stemmed and rinsed (sub: turnip greens, arugula) (roughly 4-5 cups)
1 package store-bought Paneer (or make your own, recipe below)
3 Tbsp unsalted butter
1 tsp cumin seeds
1 tsp ground coriander
1 tsp paprika
1/2 tsp ground cardamom
1/4 tsp ground cinnamon
1 onion, chopped finely
3 garlic cloves, minced
1 Tbsp grated fresh ginger
1 jalapeño chile, stemmed, seeded, and minced
1 (14.5 ounce) can diced tomatoes, drained and chopped coarse
1/2 cup roasted cashews, chopped coarse
1 cup water
1 cup buttermilk
3 Tbsp chopped fresh cilantro
Salt and pepper
Place spinach in large microwave-safe bowl, cover, and microwave until wilted, about 3 minutes.
When cool enough to handle, chop enough spinach to measure 1/3 cup and set aside, transfer remaining spinach to blender.
Repeat with the mustard greens, microwaving for 4 minutes.
Meanwhile, melt butter in 12-inch skillet over medium-high heat.
Add cumin seeds, coriander, paprika, cardamom, and cinnamon and cook until fragrant, about 30 seconds.
Add onion and 3/4 teaspoon salt; cook, stirring frequently, until softened, about 3 minutes.
Add garlic, ginger, and jalapeño; cook, stirring frequently, until lightly browned and just beginning to stick to pan, 2 to 3 minutes.
Stir in tomatoes and cook mixture until pan is dry and tomatoes are beginning to brown, 3 to 4 minutes.
Remove skillet from heat.
Transfer half of onion mixture to blender with greens.
Add half of cashews and water; process until smooth, about 1 minute.
Return purée to skillet.
Return skillet to medium-high heat, stir in chopped greens and buttermilk, and bring to a simmer.
Reduce heat to low, cover, and cook until flavors have blended, 5 minutes. Don't overcook at this point!!
Season with salt and pepper to taste.
Gently fold in cheese cubes and cook until just heated through, 1 to 2 minutes.
Transfer to serving dish, sprinkle with remaining cashews and cilantro, and serve.
Paneer
3 quarts whole milk
3 cups buttermilk
1 tablespoon salt
To make your own paneer:
Line a colander with a triple layer of cheesecloth and set in sink.
Bring milk to a boil in a Dutch oven over medium-high heat.
Whisk in buttermilk and salt, turn off heat, and let stand for 1 minute.
Pour milk mixture through cheesecloth and let curds drain for 15 minutes.
Pull edges of cheesecloth together to form pouch.
Twist edges of cheesecloth together, firmly squeezing out as much liquid as possible from cheese curds.
Place taut, twisted cheese pouch between 2 large plates and weigh down top plates with heavy Dutch oven.
Set aside at room temperature until cheese is firm and set, at least 45 minutes.
Remove cheesecloth and cut cheese into 1/2-inch pieces.
Left uncut, cheese can be wrapped in plastic wrap and refrigerated for up to 3 days.
Season:

Cuisine:

Recipe: Course:

Recipe: Main Ingredient:

Specialty Ingredients: