Shakshuka - tomato/chickpea with egg
From Bon Appetit halved (still serves four) and with some modifications:
Ingredients
3 T olive oil
1 small onion, finely chopped
3 garlic cloves, coarsely chopped
2 jalapeños, finely chopped
1 1/2 cups chickpeas, soaked overnight and drained (or 1 can chickpeas)
1 teaspoon paprika
1/2 teaspoon ground cumin
2 14-ounce can tomatoes (diced or whole+hand-crushed), juices reserved
Kosher salt and freshly ground black pepper
salt to taste
3/4 cup coarsely crumbled feta
4 large eggs
Parsley and warm pita bread for serving
Preheat oven to 425°
Heat oil in a large ovenproof skillet over medium-high heat. Add onion, garlic, and jalapeños; cook, stirring occasionally, until onion is soft. Add chickpeas, paprika, and cumin and cook for 2 minutes longer.
Add tomatoes and salt. Bring to a boil, reduce heat to medium-low, and simmer, stirring occasionally, until sauce thickens, 15-30 minutes, depending on the sauce level.
Season to taste with salt and pepper. Sprinkle feta evenly over sauce. Crack eggs one at a time and place over sauce, spacing evenly apart.
Transfer skillet to oven and bake until whites are just set but yolks are still runny, 5–8 minutes. Garnish with parsley.
Serve with pita.
Read the original recipe at http://www.bonappetit.com/recipes/quick-recipes/2011/12/poached-...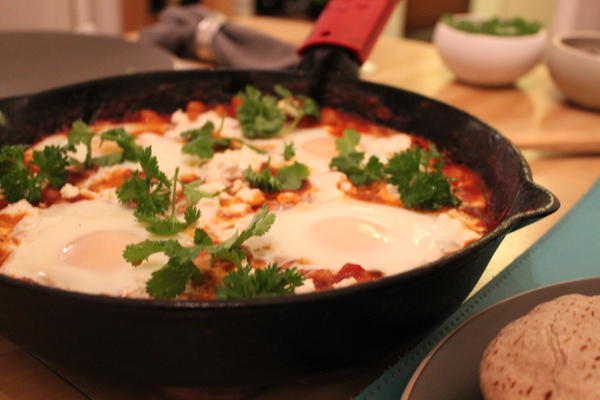 Season:

Cuisine:

Recipe: Course:

Recipe: Main Ingredient:

WikiTags: