Shrimp and Hearts of Palm Rémoulade
Rémoulade
1/2 cup loosely packed flat-leaf parsley leaves
1 celery stalk, coarsely chopped
1 small shallot, coarsely chopped
1 garlic clove, peeled
1 cup mayonnaise
2 tablespoons whole grain mustard
1 tablespoon prepared horseradish
1 tablespoon fresh lemon juice
1/2 teaspoon paprika
1/2 teaspoon Worchestershire sauce
Pulse the first four ingredients in a food processor until finely chopped. Add mayonnaise, mustard, horseradish, lemon juice, paprika, and Worcestershire sauce; process until smooth. DO AHEAD: Can be made 3 days ahead. Cover and chill.
Shrimp
1 onion, quartered
4 sprigs thyme
2 bay leaves
1 tablespoon kosher salt plus more
1 teaspoon whole black peppercorns plus freshly ground black pepper
1 teaspoon yellow mustard seeds
2 celery stalks, 1 coarsely chopped, 1 thinly sliced on the diagonal
2 pounds uncooked unpeeled large shrimp
1 14-ounce can hearts of palm, drained, sliced on the diagonal
Butter lettuce leaves
Lemon wedges
Shrimp
Combine the first 5 ingredients, peppercorns, chopped celery stalk, and 4 quarts (16 cups) water in a large heavy pot. Bring to a boil. Add shrimp and simmer for 3 minutes. Remove pot from heat and steep shrimp until just cooked through, about 5 minutes. Transfer shrimp to a rimmed baking sheet; let cool. Peel and devein shrimp. DO AHEAD Can be made 1 day ahead. Cover; chill.
Toss shrimp and rémoulade in a large bowl to coat. Cover and chill at least 2 hours.
Fold hearts of palm and sliced celery into shrimp. Season with salt and pepper. Serve on lettuce leaves with lemon wedges.
Via Bon Appetit: http://www.bonappetit.com/recipes/2012/01/shrimp-and-hearts-of-p...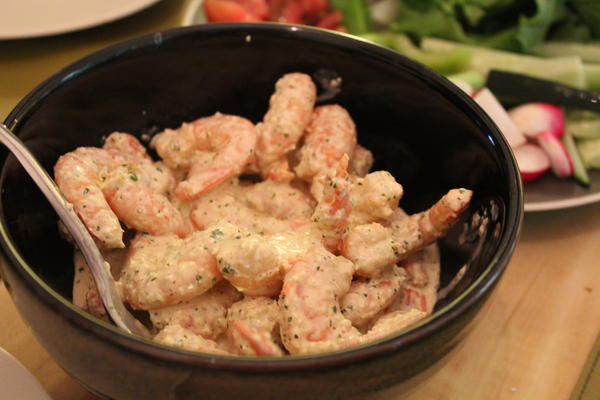 Season:

Cuisine:

Recipe: Course:

Recipe: Main Ingredient: