Shrimp Tikka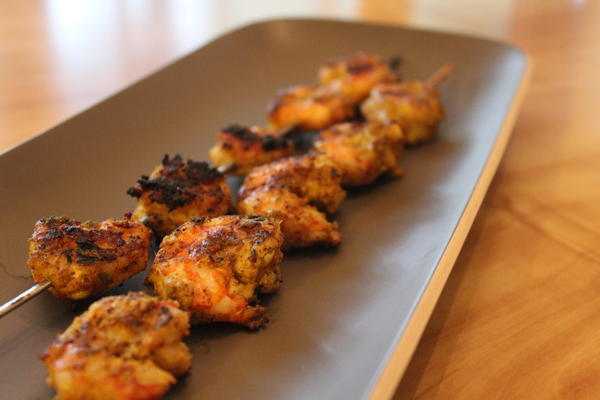 Great on the first try. Serve with rice and mango salsa.
From http://www.epicurious.com/recipes/food/views/Shrimp-Tikka-with-F...
1/4 cup vegetable oil
2 tablespoons fresh lime juice
1 (1-inch) piece fresh jalapeño, chopped (about 2 teaspoons)
1 (1-inch) piece peeled ginger, chopped
1 large garlic clove, smashed
2 teaspoons ground garam masala
3/4 teaspoons turmeric
1/8 teaspoons grated nutmeg
2 pound large shrimp in shell, peeled, leaving tail fan attached
Equipment: 10 (12-inch) skewers, if wood, soak in water.
Accompaniment: lime wedges
Preparation
Marinate shrimp:
Purée all ingredients except shrimp with 1/2 tsp salt in a blender until smooth. Pour into a sealable bag, then add shrimp and marinate at cool room temperature, turning bag occasionally, 30 minutes.
Make kebabs:
Prepare grill for direct-heat cooking over hot charcoal (medium-high heat for gas);
Thread 4 shrimp onto each skewer, leaving small spaces between them. Put on a tray.
Oil grill rack, then grill skewers, covered only if using a gas grill, turning once, until just cooked through, 4 to 6 minutes total.
Cooks' notes:
Shrimp can be cooked in a hot well-oiled large (2-burner) ridged grill pan, turning once, about 8 minutes total.
Cuisine:

Recipe: Course:

Recipe: Main Ingredient:

WikiTags: