Sloppy Joe
This was one of the first recipes I learned to make while living on my own. Not the fanciest thing in the world, but it is quick, easy, and not terrible for you. It is Rachel Ray's. A full recipe (shown here) easily serves 4, but it can easily be halved to serve 2-3.
1 tablespoon extra-virgin olive oil, 1 turn of the pan
1 1/4 pounds ground beef sirloin
1/4 cup brown sugar
2 teaspoons steak seasoning blend
1 medium onion, chopped
1 small red bell pepper, chopped
1 tablespoon red wine vinegar
1 tablespoon Worcestershire sauce
2 cups tomato sauce
2 tablespoons tomato paste
4 hamburger buns (for serving)
Garnishes such as sliced tomatoes, onions, and pickles
Heat a large skillet over medium high heat.
Add oil and meat to the pan.
Spread the meat around the pan and begin to break it up.
Add sugar and steak seasoning blend to the skillet and combine.
When the meat has browned, add onion and red peppers to the skillet.
Reduce heat to medium and add red wine vinegar and Worcestershire sauce.
Cook for 5 minutes.
Add tomato sauce and paste to pan. Stir to combine.
Reduce heat to simmer and cook 5 minutes longer.
Using a large spoon or ice cream scoop, pile sloppy meat onto toasted bun bottoms and garnish as desired.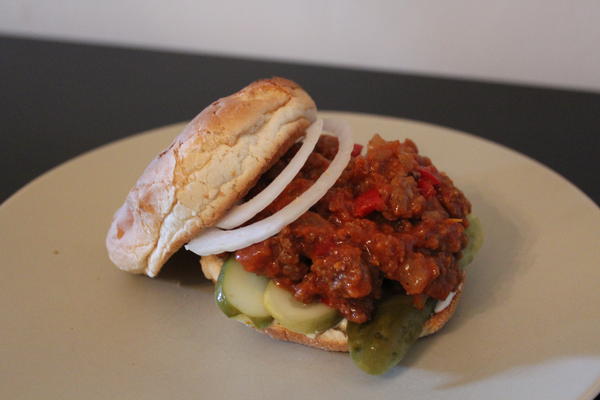 Season:

Cuisine:

Recipe: Course:

Recipe: Main Ingredient: