Spanish Gazpacho
I grew up eating americanized gazpacho (from various supermarkets and restaurants) that, though good, has nothing on a true creamy Spanish-style gazpacho. On my first trip to Spain, I had an absolutely delicious gazpacho in a random (and probably tourist trap) restaurant on Las Ramblas in Barcelona. I still remember that dish and seek out true Spanish-style gazpacho wherever I can.
So I was delighted to find, upon reading James Michener's Iberia on my second trip of Spain, a recipe for authentic gazpacho included in this wonderful travelogue of the author's time in Spain in the 1960s. Even though Spain has changed much since this book was written, it is still a very interesting account of the country, and I would highly recommend this book for anyone traveling there. (As a side note, unrelated to gazpacho, while I was in Toledo, I sought out a restaurant that Michener frequented and spoke with the owner, "la jefa," who fondly remembered him.)
(And back to the soup... beginning on p. 340, incidentally where my book is starting to come apart) Michener says "gazpacho is Spain," and he is absolutely correct. He tells the reader, "If you ever travel in Spain and come upon a restaurant that serves gazpacho, take it, because no other dish in the country will you remember with such affection." After describing the recipe, he remarks "No part of this strange recipe sounds very good, but taken together and properly blended, these ingredients produce a soup which is as distinctive as vichyssoise."
Whenever I make gazpacho, I use Michener's recipe because I know it is pure, authentic Spain. No exact measurements, no modern interpretations - just the soup as it has been made for generations. In describing the typical preparation, he notes that Spaniards prefer the soup made with one cup of olive oil and no more than a tablespoon of vinegar. He then says that "Americans, of which I am certainly one, prefer not more than a quarter cup of oil and four tablespoons of vinegar." After a bit of experimentation, we found ourselves somewhere in the middle. This recipe is our version of the dish, americanized to be sure, but all Spanish heart.
Makes approx 5 cups
Ingredients
1-2 slices of stale white bread (lacking stale bread, just bake the slices at about 250 for 10 minutes or so to dry them out)
3-4 tomatoes (about a pound or so)
1/2 large cucumber, peeled and deseeded (if especially seedy)
1/2 red pepper
1 small sweet onion
1/3 cup olive oil
3 tbsp sherry vinegar
generous dash paprika (or 1/8 cup of pimentos, if you have them)
salt and pepper to taste
Preparation
Crumble the bread into breadcrumbs. Soak in enough water so that they form a wet, mushy paste. Drain and squeeze out any excess water.
Roughly chop the tomatoes, cucumber, pepper, and onion. Liquefy in a blender with the paprika, salt/pepper, oil and vinegar (which can be added through the top of the blender while blending). Then add the mushy bread and blend further until the soup is creamy and smooth. Adjust salt/pepper, oil/vinegar to taste.
Chill in the fridge for at least 6 hours. Serve ice cold and, as Michener says, "pass a serving tray containing separate dishes of chopped tomatoes, cucumbers, onions and small cubes of bread [breadcrumbs]" for garnish.
Buen provecho!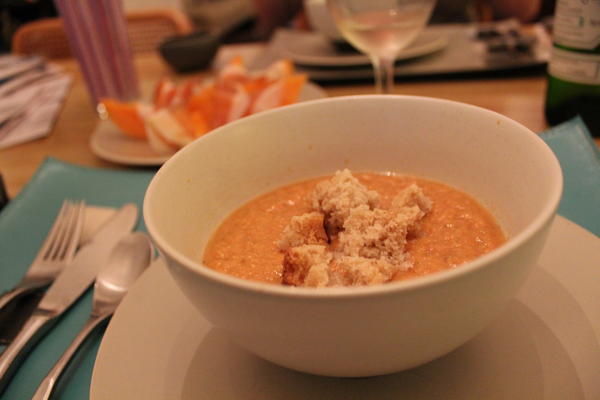 Season:

Cuisine:

Recipe: Course:

Recipe: Main Ingredient:

WikiTags: