Spiced Eggplant with Bulgur Salad
A delicious and easy Bon Appetit recipe.
Serves 2
1/4 cup olive oil, divided, plus more for drizzling
1 tablespoon finely chopped preserved lemon peel (optional)
1 garlic clove, smashed
1 teaspoon ground cumin
1/2 teaspoon ground coriander
1/2 teaspoon paprika
1/4 teaspoon ground cinnamon
1/4 teaspoon crushed red pepper flakes
1/4 teaspoon kosher salt plus more
1 medium eggplant (9–10 ounces), halved lengthwise
1/2 cup quick-cooking bulgur (sub wheat berries if you don't have barley, you can also use a wild rice mix)
1/4 cup pitted green olives, quartered lengthwise (optional if eating with Audrey)
1/4 small red onion, very thinly sliced
1/4 cup currants (use dried cranberries or zereshk if you don't have currants)
1/4 cup flat-leaf parsley, chopped (use more cilantro if you don't have parsley)
1/4 cup fresh cilantro, chopped, plus more for garnish (use more parsley if you don't have cilantro)
1/8 cup pistachios, toasted and lightly crushed
1 tablespoon fresh lemon juice
Freshly ground black pepper
Greek yogurt
Preparation
Preheat oven to 350°.
Stir 1/8 cup oil, next 7 ingredients, and 1/8 tsp. salt in a small bowl for spice mix.
Score flesh of each eggplant half with 1/2"-deep diagonal crisscrossing lines, spacing 1" apart (do not cut through skin).
Drizzle 1 Tbsp. oil over cut side of each half, allowing it to soak in.
Season lightly with salt. Brush or spoon spice mix over, dividing evenly.
Place eggplants, cut side up, on a rimmed baking sheet. Roast until soft and very tender in center, 50–60 minutes.
Meanwhile, place bulgur in a large bowl and cover with 1 1/2 cups boiling water. Let soak for 45 minutes to soften and absorb water.
(If using wheat berries or another grain, follow appropriate cooking instructions.)
(If using zereshk, clean berries well and soak in warm water for ~10 mins.)
Stir in olives, onion, currants, parsley, 1/3 cup cilantro, pistachios, and lemon juice.
Season to taste with salt and pepper. Feel free to add more lemon juice as well.
Let stand for at least 30 minutes for flavors to meld.
DO AHEAD: Eggplant and bulgur salad can be made the night before.
Serve eggplant warm or at room temperature.
Place an eggplant half on each plate. Spoon some bulgur salad and a dollop of yogurt alongside.
Sprinkle with remaining cilantro and drizzle with oil.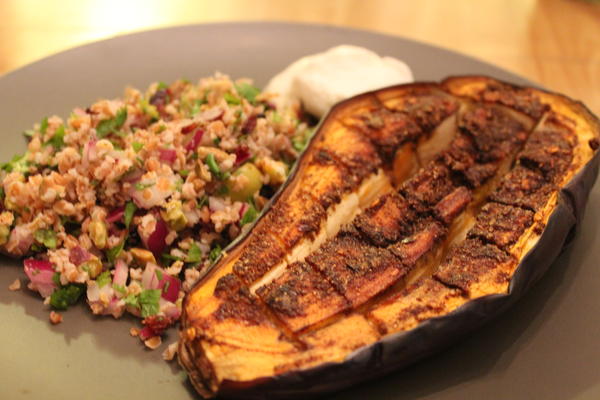 Season:

Cuisine:

Recipe: Course:

Recipe: Main Ingredient:

WikiTags: