(Spicy) Pimiento Mac and Cheese
I made a tweaked version of this Bon Appetit recipe. It was good, especially from a mac and cheese perspective - gooey and all the rest of that. I'm not sure how I actually felt about the spicy pimiento cheese aspect of it. Perhaps next time I will downplay the spicy pimiento and just use the basic recipe as a base for a more traditional mac and cheese dish.
Ingredients
3 tablespoons unsalted butter, room temperature, divided
1/2 cup panko (Japanese breadcrumbs)
1/2 cup freshly grated Parmesan cheese, divided
1 cup coarsely chopped pickled red peppers or mild cherry peppers
Optional (to make dish spicy): substitute a few tablespoons of chopped hot cherry peppers for the pickled/mild peppers
1 tablespoon mild pickled or cherry pepper brine
2 medium garlic cloves, coarsely chopped
1 cup (packed) coarsely grated extra-sharp cheddar cheese
1 cup (packed) coarsely grated whole-milk mozzarella
8 ounces medium shell pasta or gemelli
Preparation
Toast panko in skillet over medium-high heat until golden, stirring often, 5 to 6 minutes. Cool to lukewarm. Rub 1 tablespoon butter into crumbs to coat. Mix in 1/4 cup Parmesan.
Add to large food processor chopped peppers and brine, 2 tablespoons butter, and garlic; then add cheddar and 1/4 cup Parmesan. Blend until sauce is smooth.
Preheat oven to 400°F. Butter 8-cup baking dish (or 6 individual dishes). Cook pasta in pot of boiling salted water until tender but still firm to bite. Drain; return to pot. Stir pimiento sauce and mozzarella into pasta. Spoon pasta into dish. Sprinkle with crumb topping.
Bake pasta until topping is crisp and sauce is bubbling, about 20 minutes (15 for individual). Let stand 10 minutes before serving.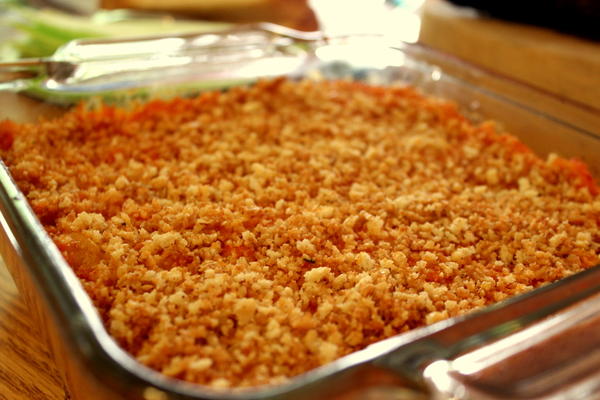 Season:

Cuisine:

Recipe: Course:

Recipe: Main Ingredient: