Stuffed Cherry Peppers
Roasted cherry peppers stuffed with Serrano ham, basil, and goat cheese. From Epicurious : http://www.epicurious.com/recipes/member/views/STUFFED-CHERRY-PEPPERS-12...
Ingredients
12 hot cherry peppers
5 ounces fresh goat cheese
12 paper-thin slices of Serrano Ham (jámon Serrano) or Prosciutto - anchovies are also tasty, and consider olives as a stufffer as well
12 medium-sized fresh basil leaves
1 clove garlic
1/2 C Extra Virgin Olive Oil
2 T Sherry Vinegar
1/2 t salt
6 basil leaves, coarsely chopped
Preparation
Crush the garlic and add it to the olive oil. Set aside.
Core 'em:
Remove the stems from the peppers. Use a melon-baller or apple-corer to remove the core and seeds.
For milder-tasting peppers, use the melon-baller to scrape all white veins from the insides of the peppers.
Roast 'em:
Have a bowl of ice water standing by.
Roast the peppers over the hottest flame you can find until they're black all over.
The faster you can roast them, the more texture and crunch they'll retain.
I use a metal grate set directly over a gas burner for this.
Since the peppers will not get a chance to "sweat", it's vital to blacken every bit of the exterior surface.
But, you also don't want to char the flesh, just the skin.
Plunge the peppers into ice water immediately after roasting.
Peel 'em:
After the peppers have chilled, remove the blackened skin under running water.
Place the peppers cut-side-down on paper towels to dry.
Stuff 'em
Take a small scoop of goat cheese (approx 1/2 ounce - depending on the size of the peppers) and wrap it in a basil leaf.
Wrap a thin slice of serrano or prosciutto around the cheese and stuff it into the pepper.
Marinate 'em:
Remove the garlic from the olive oil.
Add the vinegar, salt, and chopped basil.
Place the stuffed peppers into a resealable bag and pour in the vinaigrette.
Press all the air out of the bag and seal. Refrigerate at least 4 hours.
Serve 'em:
Let peppers return to room temp before serving.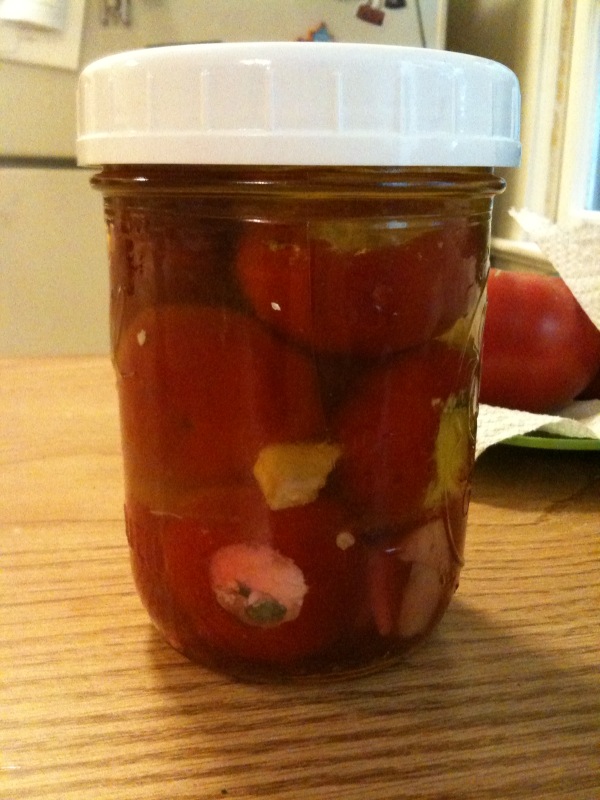 Cuisine:

Recipe: Course:

Recipe: Main Ingredient:

WikiTags: