Sweet Potato Pecan Casserole
Courtesy of the internet and tweaked to address some errant sweet potato purchases. The tweaked version was a big hit!
Fills a ~9x13 oval dish.
Base
1 pound purple or white sweet potatoes (about 2 medium)
Filling
2.5 pounds orange sweet potatoes (about 4-5 medium)
1 egg
1/4 cup butter, melted
1/3 cup brown sugar
1 tsp salt
1/4 cup milk or heavy cream
Topping
1/8 cup brown sugar
2 Tbsp flour
1/4 cup melted butter
1 cup pecans, roughly chopped
1-2 cups mini marshmallows
DO AHEAD:
Roast sweet potatoes in oven until fork-tender.
Peel and discard skins. (...or toss with some olive oil and salt and bake to create sweet potato skin chips!)
MORNING OF:
Cut purple potatoes into coins and arrange in a layer on the bottom of a greased baking dish. Alternatively, mash together and spread into a layer.
Mash cooked orange sweet potatoes and egg, 1/4 cup melted butter, brown sugar, salt, and milk (or heavy cream). Mix until smooth.
Spread orange potato mixture on top of purple potato layer.
In a small bowl, combine brown sugar, flour, and pecans and mix well.
Drizzle 1/4 cup melted butter over pecan/sugar mixture and mix well until pecans are coated.
Sprinkle mixture over potatoes.
WHEN READY TO EAT:
Preheat oven to 375.
Bake uncovered for 15-20 minutes until pecans are caramelized.
Spread marshmallows evenly over pecan mixture.
Return to oven for another 5 minutes or until marshmallows are puffy and lightly browned.
Serve immediately - dish will be hot!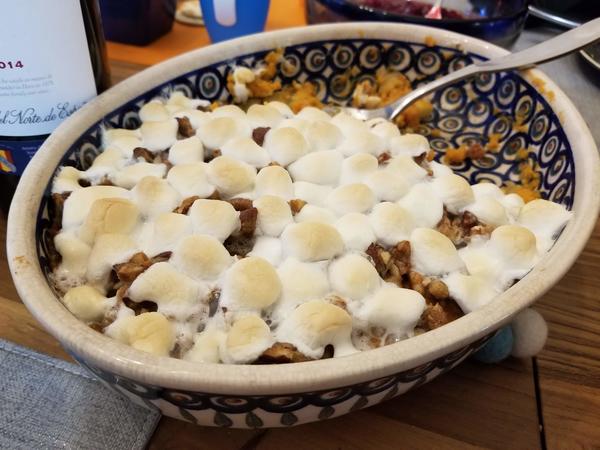 Season:

Cuisine:

Recipe: Course:

Recipe: Main Ingredient:

WikiTags:

Specialty Ingredients: