TaKorean Spiced Kale Slaw with Hoisin Tofu
So, I'm mildly obsessed with TaKorean's spicy kale slaw with hoisin tofu. The combination of flavors is so delicious that I forego the taco entirely to get a big bowl of this combination instead. When Bon Appetit posted a recipe that seemed similar in flavor profile to the kale slaw half of the TaKorean dish, I decided to try and recreate this treat at home. This is by no means the actual recipe that TaKorean uses, but I think it's a pretty damned good replica.
Serves 4 as a main
Slaw
4 cups curly kale, stems removed and shredded in a food processor (can substitute other forms of kale with similar texture and mild flavor)
1 cup shredded brussels sprouts or cabbage (optional)
1/2 cup shredded carrots (optional)
Dressing
1 Tbsp gochujang (Korean spicy paste) or a gochujang-based sauce (such as ssamjang)
1 Tbsp soy sauce
1 Tbsp rice vinegar
1 tsp hoisin sauce or sugar (optional - to cut the heat)
Mix vegetables and toss with dressing. This can sit for a few minutes while you prepare the rest.
Tofu
1 15oz package of extra-firm tofu, drained and sliced lengthwise 1/2" thick
1/4 cup hoisin sauce
2 Tbsp soy sauce
1 tsp rice vinegar
Cut tofu into 1/2" cubes. Mix hoisin sauce, soy sauce, and vinegar. Add tofu and toss to coat.
Prepare non-stick pan over medium-high heat. Add 1 Tbsp coconut or vegetable oil. When hot, add tofu and cook, until caramelized, 8-10 minutes.
Garnishes
Lime Crema: mix 1/4 cup crema (substitute sour cream) with juice of 1 lime
1/4 cup cilantro, chopped
1/8 cup sesame seeds
Sriracha
Final Product
Put dressed kale mixture into a bowl.
Top with tofu.
Garnish with cilantro and sesame seeds.
Drizzle with lime creme and sriracha.
Enjoy!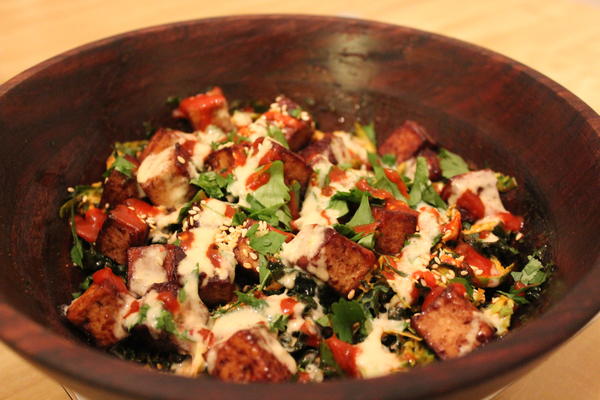 Season:

Cuisine:

Recipe: Course:

Recipe: Main Ingredient:

WikiTags: