Tamales de Elote
This recipe is a mash-up of several recipes.
2 cups corn kernels (cut from 2 large ears of corn)
4 oz (1 stick) butter, cut into 1/2" pieces and softened slightly
1 tsp baking powder
2 tbsp sugar
1 3/4 cup masa harina
1 tsp salt
1 1/4 cup milk, warmed
Puree corn kernels with butter pieces, baking power, and sugar in food processor.
In a separate bowl, mix masa harina and salt. Add warm milk and mix until incorporated. Feel free to add a bit of extra milk if need be.
Add masa dough to food processor a bit at a time and allow to run until light and homogeneous (approx 1 minute).
Fill the tamales (this site has pretty good instructions). If you like, add fillings (though this recipe is for sweet corn tamales, which typically don't have fillings). If you actually want to make savory tamales (like with pork or beef or chicken), you should make actual tamale dough.
Line steamer with leftover husks. Put tamales in upright. Cover with additional leftover husks.
Steam 1-2 hours, or until tamales come free of husks.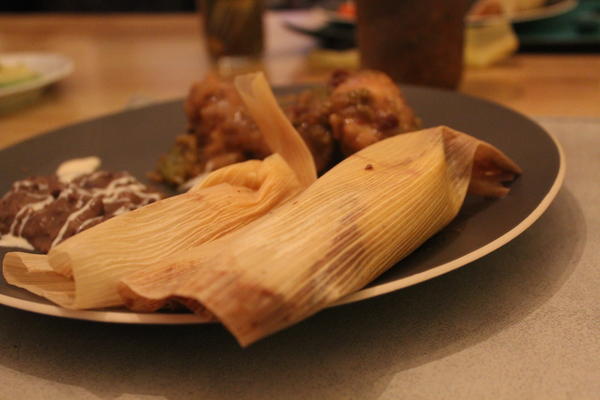 Season:

Cuisine:

Recipe: Course:

Recipe: Main Ingredient: