Trinidadian Brown Stewed Chicken
I have previously discussed my introduction to Caribbean food through my college roommate. Of the dishes she made, my favorite was a brown stewed chicken. To create this recipe, I have stitched together several recipes found on the internet.

3 cloves garlic, minced

1 small onion, chopped

3-4 chives or green onion tops, sliced

1 tsp grated ginger

a handful of cilantro, stemmed
 and chopped

a handful of parsley, stemmed and chopped
a few sprigs thyme, stemmed and chopped
1 scotch bonnet or habenero pepper (or less to taste), finely chopped or sliced
1 tbsp ketchup or tomato paste

1 tbsp worcestershire sauce
1 tbsp tbsp soy sauce
Salt

Pepper
2 lbs chicken breast, cut into pieces
High smoke-point vegetable oil
3 Tbsp brown sugar
1 large tomato, chopped
Prepare your marinade ingredients - everything from garlic through pepper.
Mix in a medium, non-reactive bowl.
Add chicken to the bowl, mix well, and marinade at least 1 hour or overnight.
When you're ready to cook the chicken, remove from the marinade and reserve the marinade.
Pat the chicken dry with paper towels.
Heat a few tablespoons of oil in a heavy-bottomed pan over medium heat.
When hot but not smoking, add the sugar.
The sugar will bubble, froth, and darken, but do not allow it to smoke and turn black.
When sugar begins to turn dark brown and caramelized, add the chicken pieces.
Stir chicken until coated on all sides with browned sugar, 3-5 minutes.
Remove chicken pieces and set aside.
Add the reserved marinade to the pan and sauté for a few minutes.
Add chopped tomato to the pan and cook for a few minutes, or until the tomato starts to break down.
Add back the chicken pieces and add water (no more than 1 cup) so that the chicken has liquid to simmer in at the bottom of the pot.
You should swish the water around in the marinade bowl to ensure you get all the bits left in the bowl.
Simmer, uncovered, over medium-low heat for 20-25 minutes until chicken is cooked and tender and liquid is reduced to a sauce.
Season with salt to taste, and serve with macaroni pie.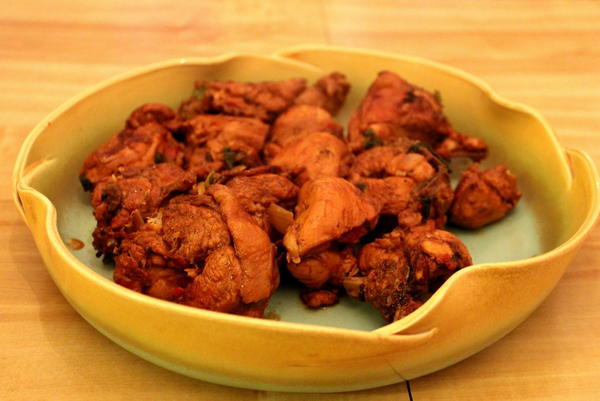 Season:

Cuisine:

Recipe: Course:

Recipe: Main Ingredient: