Trinidadian Macaroni Pie
Throughout college, I had several Trinidadian friends (including a great freshman year roommate). One of the easiest (and most delicious and most fattening) dishes we would eat was macaroni pie. I stole this recipe from CaribbeanPot.com and it was quite tasty.
14 oz "macaroni" (we used bucattini pasta)
1/2 medium onion diced finely
1 habanero or scotch bonnet diced finely (optional)
2 large eggs
1 can evaporated milk (~12 oz)
2 tbsp butter, melted
1/3 tsp dry mustard
2 1/4 cups grated cheddar cheese, divided
1/4 tsp black pepper
1/4 tsp salt
paprika
Preheat the oven to 350.
Cook macaroni in a large pot of boiling, salted water to al dente (do not overcook, since it will continue to make in the oven).
Drain and set aside.
Meanwhile, combine the diced pepper and onion, dry mustard, black pepper, salt, eggs, butter and evaporated milk in a large bowl.
Whisk together so everything is mixed thoroughly.
Add all but 1/2 cup of the grated cheese to the mixture.
Add the drained macaroni to the mix and combine well.
Grease a 9x9 glass baking dish.
Add the macaroni mixture and push it down to level it off.
Sprinkle the remaining cheese on top and dust with the paprika.
Place pie it on the middle rack of the oven and cook for 30-40 minutes.
You're looking for a firm pie with a golden top.
Allow to cool and set for 15 minutes before slicing.
Note: An optional flavor booster is to add some chicken bouillon to the evaporated milk mixture.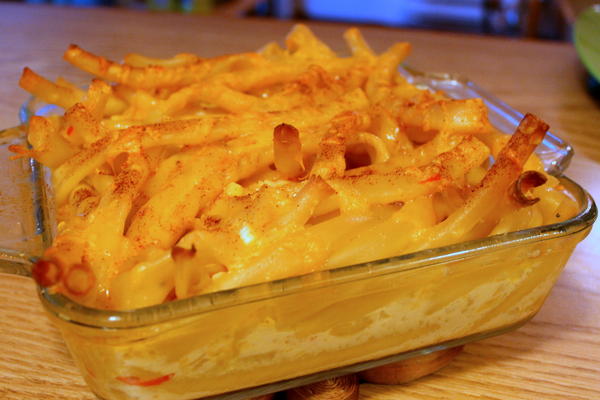 Season:

Cuisine:

Recipe: Course:

Recipe: Main Ingredient: