Turkey and Dressing
This is a modified version of the turkey and dressing recipe that Jon got from his Mom, who learned from hers. We buy a fresh (non-frozen), free-range turkey and dry brine it. In years past, we have also wet-brined it for three days, but this is much messier (though it can save fridge space if you use a cooler). If frozen, it will need to thaw, in the refrigerator, for several days. Follow the directions that come with the turkey.
Note from Mom on turkey size: 12 to 15 lbs is a good size. It will feed 8 people and you will have leftovers. If you will be having more folks, I find it is best to buy two (or multiples) of this size. You can cook one the day before and refrigerate it and reheat it while the first one is being eaten.
We have had good luck with turkeys up to 18 lbs, which serves ~10 adults with a good amount of leftovers for everyone for the next few days.
A 17.5 lb turkey took 5 hours total, 4 before adding the stuffing. (but in 2018, it took only 3 hours to cook, so...)
A 14 lb turkey took 3.5 hours total, 2.5 before adding the stuffing.
Ingredients
Wet Brine
1.5 cups kosher salt
1.5 cups sugar
1 large onion, peeled, diced
1/4 cup diced celery
1 sprig rosemary
2 large sprigs thyme
3 bay leaves
1 tablespoon black peppercorns
Bring salt, sugar, and 1 quart (4 cups) water to a boil in a very large (16-qt.) pot, stirring until salt and sugar are dissolved. Add remaining ingredients to brine base. Turn off heat. Refrigerate, uncovered, until cold.
Add 7 quarts cold water to pot.
Check neck cavity and belly cavity of turkey and remove the plastic bags of neck, gizzards etc. Add turkey. Place a plate on top of turkey to keep submerged.
Cover; chill for up to 72 hours. (The turkey will be moister and more flavorful if allowed to brine the full 72 hours.)
Dry Brine
¼ cup kosher salt
1.5 Tbsp sugar
sage
pepper
2-3 days before, clean out and rinse turkey, pat dry.
Rub salt mixutre all over, and save some to work in under the skin on the breasts.
Place, uncovered, in a rack on a tray in the top of the fridge and let dry.
Turkey
1 turkey, size of your choice
1 onion, quartered
1 lemon, quartered
3 sticks celery, chopped
carrots, optional
rosemary
dried or fresh sage
1 quart/box of broth
butter, melted
salt, pepper, rubbed sage
Dressing for 1 large turkey
Prep ingredients
1 small roll refrigerator "whomp" biscuits....the cheaper the better.
3 pkgs of Corn-Kits (Morrison brand) or substitute with Cornbread from Scratch if you can't find Morrison brand:

3 c. yellow cornmeal (Not stone ground)
3 c. flour
3 c. milk
3 eggs
3 T sugar (optional if you are not feeding Yankees)
4 Tbsp baking powder
1 1/2 t. salt
3/4 c. shortening
Additional day-of ingredients
3 quarts (boxes) of turkey or chicken broth. The amount you will need depends on humidity and how dry your bread mixture is, the drier the better.
6 eggs
3 onions, chopped (yellow)
The rest of a bunch celery, chopped
Instructions
Dressing prep (weekend before)
Two or three days before you are serving, bake the cornbread and biscuits according to the directions on the pkgs.
Let cool, then break up into medium (1" chunks).
Put in large bowl or pan and cover with cuptowel.
Do not cover with foil or plastic wrap...air needs to circulate or it will mold.
Stir twice daily and store in the (unlit) oven. Remember to take it our before you preheat oven for something else.
(Note that if you are only able to find a large roll of biscuits, use only ~ ¾ of them, as too many will make the dressing gummy.)
Day-of Directions
Turkey
Preheat oven to 425 degrees.
Remove turkey from brine at least 1 hour before baking. If using a frozen turkey, it should be completely thawed by this point.
Rinse turkey and dry thoroughly with paper towels.
Put turkey breast down into baking pan on a lightly greased or non-stick rack.
Put one onion, quartered, and a couple or so celery stalks and the quartered lemon (plus aromatic herbs) in the cavity.
Salt and pepper the inside.
Tuck a few pats of butter under the skin of the breast.
Using melted butter or oil, brush the breast and legs, then salt and pepper.
Tuck the wings under the bird. Pour one quart of stock into the roasting pan (using smokey turkey stock if you have it) and add some celery, onions, and carrots to the pan.
Put turkey in oven and bake at 425 for 1 hour.
After one hour, flip turkey breast up, baste, and turn heat down to 325.
Continue to baste the turkey occasionally during baking. If the turkey is browning too much on the breast and legs, tent with foil.
About an hour before the turkey is scheduled to be done, remove from oven.
Pour off pan drippings.
Spread dressing evenly in roasting pan and place turkey directly dressing.
(Pour the drippings into a measuring cup, and refrigerate. Use some of the congealed fat to make the roux for the gravy and the rest of the drippings for "au jus" and southern-style gravy. If you have more drippings than you need, you can use some of them to season the dressing as well.)
Bake at least 1 hour more, until turkey is done and dressing is brown around the edge of pan.
Dressing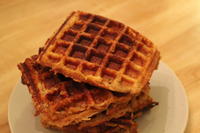 While the turkey is baking, heat the broth to the boiling point and keep warm.
Boil eggs, cool and peel.
Chop 3 or 4 onions, 3 or 4 stalks of celery and saute in small amount of butter or olive oil until the onion is no longer opaque.
Mix onions and celery into bread mixture.
Add salt and pepper and sage (about 1 tsp. sage to begin with).
When you are almost ready to put the turkey on top, add the hot broth and stir.
Taste and adjust seasonings.
Stir in the chopped eggs.
The consistency of the dressing will be thick, but not soupy. It should pour out of the bowl.
Leftover dressing can be made into tasty fried balls or "stuffles" - dressing waffles!
Gravy
Make gravy using the roux from the turkey fat, flour, broth and salt and pepper. (Blend the turkey dripping fat, and flour in pan stirring until it is thick and smooth.)
Add hot broth, slowly, stirring constantly. If it is not thick enough, add some flour to cold water, stir until mixed, and add slowly to hot mixture....stir like mad.
Cook on low heat for at least 5 minutes after adding additional flour.
Salt and pepper to taste.
(See http://www.audreyandjon.com/blog/20141130/thanksgiving-do-lists for shopping lists and to-do lists)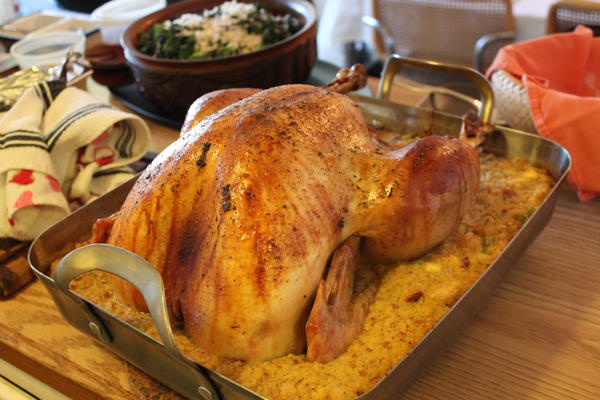 Season:

Cuisine:

Recipe: Course:

Recipe: Main Ingredient:

WikiTags: