Wild Mushroom Arancini
From delicious magazine. Difficult to form, but tasty! Freeze (and reheat) leftovers for an easy weeknight meal.
2 tbsp butter
1 cup assorted wild or chestnut mushrooms, wiped clean and sliced
1 onion, finely chopped
1 garlic clove, crushed
1.5 cups arborio rice
1/3 cup white wine
3 cups vegetable stock, hot (approx - make more if needed)
1 tbsp fresh thyme leaves
4 oz buffalo mozzarella ball, cut into 12 pieces
4 tbsp plain flour
3 tbsp vegetable oil
1. Heat 1 tbsp of the butter in a pot over a medium heat, until foaming. Add the mushrooms and fry for 3-4 minutes. Drain off any excess liquid and set the mushrooms aside.
2. Return the pan to the heat, add the onion, garlic and remaining butter and cook for 5 minutes. Add the rice and stir for 1 minute. Add the wine and simmer until reduced to almost nothing. Add a ladleful of stock and simmer until nearly absorbed. Keep adding the stock in this way, until the rice is al dente – about 20 minutes. Fold in the thyme and mushrooms. Season, cool slightly, then chill until cold.
3. Shape the risotto into 12 cakes. Make a hole in the centre of each and press in a piece of cheese. Cover by squeezing the sides together.
4. Roll the risotto cakes in the flour. Heat the oil in a large frying pan and fry the cakes, in batches, for 3-4 minutes each side or until golden and crisp. Remove with a slotted spoon and drain on a paper towel-lined rack. Keep warm in a low oven while you fry the rest.
5. Serve 2-3 risotto cakes each, with a green salad and your favorite Italian sauce (like marinara or pesto) on the side.
You may freeze fried and cooled cakes. Thoroughly defrost as many risotto cakes as you need and reheat in the oven.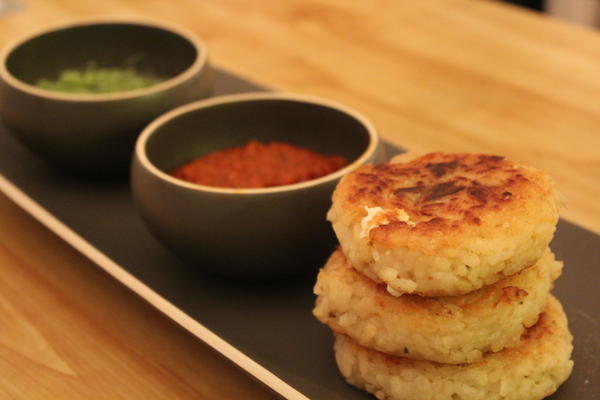 Season:

Cuisine:

Recipe: Course:

Recipe: Main Ingredient:

WikiTags: