Baked Oysters with Bacon and Leeks
We had some leftover pre-shucked oysters and used them to make this Bon Appetit recipe. The recipe here originally used an entire 16-oz jar of pre-shucked oysters, but we halved it; serves two.
Ingredients
1/2 tablespoon butter
1/2 tablespoon all purpose flour
1/2 cup whipping cream
2 slices thick bacon (preferably applewood-smoked), chopped
1 tablespoons grated Pecorino Romano cheese
2 cups thinly sliced leeks (white and pale green parts only; from 2 large leeks)
1/2 cup finely chopped celery
1 bay leaf
1/8 teaspoon cayenne pepper
1 tablespoons dry white wine
8 medium oysters, shucked, or one 16-ounce jar shucked oysters
1/2 cup fresh breadcrumbs made from crustless French bread
Preparation
Melt butter in small skillet over medium heat. Add flour; whisk 2 minutes. Add cream slowly and whisk until mixture thickens slightly. Remove from heat.
Sauté bacon in heavy large skillet over medium heat until crisp, about 6 minutes. Transfer bacon to paper towels to drain.
Discard all but 2 tablespoons drippings from skillet. Add leeks, celery, bay leaf, and cayenne to skillet and sauté over medium heat until vegetables are soft, about 12 minutes.
Add wine and cook until absorbed, about 15 seconds.
Add cream mixture and bring to simmer.
Stir until leek mixture thickens slightly, about 3 minutes.
Stir in bacon and cheese. Season generously with salt and pepper.
DO AHEAD: Can be made 1 day ahead. Cool slightly. Cover and refrigerate.
Place 1 oyster on each of 20 oyster shells or place 2 oysters in each of 10 small ramekins. Top oyster in each shell with 2 tablespoons leek mixture, or top oysters in ramekins with 1/4 cup leek mixture.
Place on rimmed baking sheet. DO AHEAD Can be made 4 hours ahead. Cover and chill.
Preheat oven to 500°F. Divide breadcrumbs among shells or ramekins. Bake until leek mixture bubbles and crumbs are golden, about 8 minutes.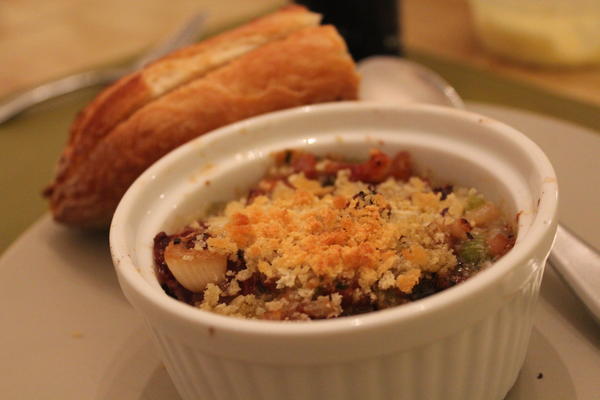 Season:

Cuisine:

Recipe: Course:

Recipe: Main Ingredient: