Berry Pie
Merging some thoughts and recipes from http://www.audreyandjon.com/recipes/fruit-cobbler , http://www.foodandwine.com/recipes/marilyn-batalis-blackberry-pie , and http://www.seriouseats.com/recipes/2012/02/mixed-berry-pie-made-... :
2 discs of Pie crust
4 cups fresh or frozen berries
½ cup sugar
2 T cornstarch
1 T lo/no sugar pectin (modify thickener choices to your preference)
1 tablespoon fresh lemon juice
1 tablespoon cold unsalted butter, cut into cubes
Preheat oven to 425°F.
Form the bottom pie crust in the pie pan and chill in refrigerator.
In a small bowl, whisk together sugar, cornstarch, and pectin and set aside.
In a large bowl, toss the berries with the sugar/cornstarch/pectin mixture to coat them completely. Stir in lemon juice, lightly mashing a few berries.
Scrape into the prepared pie crust and sprinkle the butter cubes on top.
Cover with the rolled, chilled top crust and crimp the edges to seal. Chill the pie for 20 minutes.
Bake the pie centered on the lowest rack of the preheated oven for 20 minutes, rotating halfway through.
Drop the oven temperature to 375°F, and continue baking until the top is golden brown the the filling is bubbling up through the slits.
If parts of the crust begin to look too dark, cover these spots with patches of foil to protect them from burning. Cool pie for 1-4 hours before serving.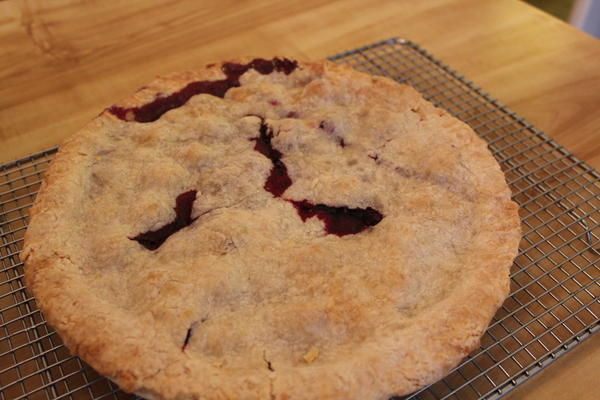 Season:

Cuisine:

Recipe: Course:

Recipe: Main Ingredient: