Black Rice Salad with Mango and Peanuts
This Bon Appetit rice salad was easy and delicious. It also could easily be made vegetarian (and is already gluten free) by omitting the fish sauce or replacing it with soy sauce. The fish sauce smell can be a bit off-putting on the first day, so if you're not a fan, just skip it.
Serves 2-4
1 orange
1/4 cup fresh lime juice
1 tablespoon vegetable oil
1/2 tablespoon fish sauce (optional)
1 cup black rice (preferably Lotus Foods Forbidden Rice)
1 just-ripe mango, peeled, pitted, cut into 1/2-inch dice
1/2 cup fresh cilantro leaves
1/2 cup finely chopped red onion (about 1/2 large onion)
1/2 cup diced cucumber or radish
1/4 cup dry-roasted peanuts
3 scallions, thinly sliced
1 jalapeño, seeded, minced
Remove peel and white pith from oranges. Working over a medium bowl to catch juices and using a small sharp knife, cut between membranes to release orange segments into bowl. Squeeze membranes over bowl to release any juices. Put orange segments into a separate large bowl.
Add lime juice, oil, and fish sauce (if using) to bowl with orange juice; whisk to blend. Set dressing aside.
Follow cooking instructions for your rice. When done, let cool and toss with dressing.
Add remaining ingredients to the large bowl with your orange segments. Season lightly with salt and more lime juice, if desired.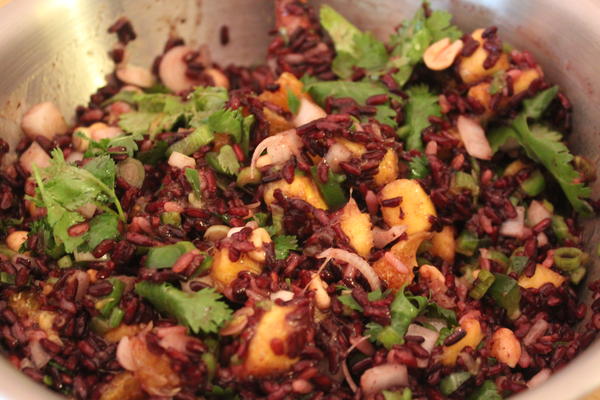 Season:

Cuisine:

Recipe: Course:

Recipe: Main Ingredient: