Butternut Squash Farrotto
½ tablespoon cumin, divided
1 cup plain whole-milk yogurt
2 tablespoona fresh lemon juice, divided
3 garlic cloves; 1 minced, 2 thinly sliced
2 cups 1/2-inch cubes peeled butternut squash
1 cup semi-pearled farro (can add in barley and other whole grains)
1 tablespoons chopped Fresno chile or red jalapeño chile with seeds, divided
½ cup 1/2-inch cubes red onion plus 1/4 cup thinly sliced
½ 15-ounce can garbanzo beans (chickpeas), drained
¼ cup fresh cilantro leaves
Extra-virgin olive oil
Yogurt Sauce
Mix yogurt, 1 ½ teaspoons cumin to small bowl, ½ tablespoon lemon juice, and minced garlic. Season with salt and pepper. Cover and chill.
Preparation
Preheat oven to 400°F. Coat large rimmed baking sheet with nonstick spray. Place squash in large bowl. Add 1 tablespoon oil; toss to coat. Spread squash out on sheet. Sprinkle with salt and pepper. Roast until tender, about 20 minutes.
Meanwhile, cook farro in large pot of boiling salted water until tender, according to package instructions or 18 to 20 minutes. Drain farro and cool.
At time of serving
Heat remaining 2 tablespoons oil in heavy large skillet over medium-high heat. Add sliced garlic and 1 tablespoon chile; sauté 1 minute. Add onion cubes and garbanzo beans; sauté 1 minute.
Add roasted squash and cooked farro and toss to blend. Sprinkle with 1 1/2 teaspoons ground cumin and 1 1/2 tablespoons lemon juice; toss to blend. Season to taste with salt, pepper, and more lemon juice, if desired.
Server farro mixture with yogurt mixture spooned over. Sprinkle with cilantro, sliced onion, and remaining chile.
Based on Bon Appetit's Heirloom Squash Farrotto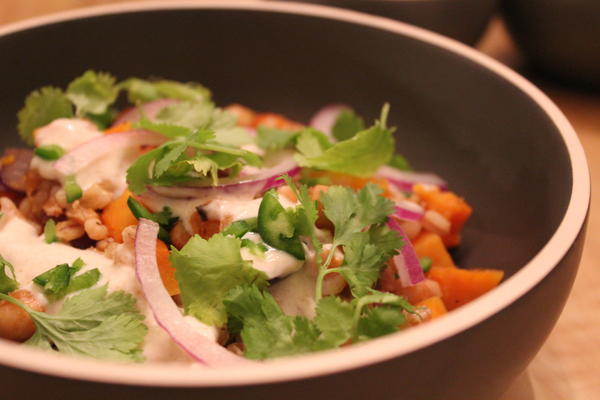 Season:

Cuisine:

Recipe: Course:

Recipe: Main Ingredient:

WikiTags: