Caramelized Garlic Quiche
For Crust (enough for two crusts - note, Jon finds this recipe difficult to work with, especially when doubled, and would consider using a different crust recipe next time)
2½ cups all-purpose flour
1 teaspoon kosher salt
1 cup (2 sticks) chilled unsalted butter, cut into pieces
2 tablespoons apple cider vinegar
For Quiche:
5 large eggs
3 heads of garlic, cloves peeled
Kosher salt
1 tablespoon olive oil
1 tablespoon balsamic vinegar
1 tablespoon pure maple syrup
1 teaspoon chopped fresh rosemary
1 teaspoon chopped fresh thyme
dash nutmeg
Freshly ground black pepper
6 ounces sharp white cheddar cheese, grated (about 1 loosely-packed cup)
2 cups baby spinach, lightly chopped
1 cup crème fraîche
½ cup milk
Crust
Pulse flour and salt in a food processor to combine. Pulse in butter until mixture resembles coarse meal with pieces of butter still visible, about 20 pulses.
Combine vinegar and ½ cup ice water in a measuring cup. Pulsing, drizzle in vinegar mixture; pulse until dough just holds together when squeezed (it should still be crumbly), about 10 pulses.
Turn out dough and divide in half. Place each half on a sheet of plastic wrap and use plastic to press into disks. Wrap and chill until firm, up to 2 hours.
Quiche:
Preheat to 350°. Roll out 1 disk of dough on a lightly floured surface to a 14" round. Transfer to a 10"/ largw diameter pie dish. Lift up edge and let dough slump down into dish. Trim, leaving about 1" overhang. Fold overhang under and crimp to decorate; crust may pull in when you par-bake, so lip it over the edge. Freeze 15 minutes. Line dough with parchment paper or foil, leaving some overhang. Fill with pie weights or dried beans. Bake until crust is dry around edge, 25–30 minutes. Remove parchment and weights and brush entire crust with egg. Bake until crust is dry and set, 10–15 minutes. Let cool. (Whisk eggs for later use to us to brush crust)
Meanwhile, cook garlic in a medium saucepan of boiling salted water until beginning to soften, about 3 minutes; drain. Wipe saucepan dry and heat oil in pan over medium-high. Add garlic and cook, stirring occasionally, until cloves start to turn golden brown, about 2 minutes. Add vinegar and 1 cup water and bring to a boil. Reduce heat and simmer until garlic is tender, 10–12 minutes. Add maple syrup, rosemary, and thyme, and season with salt and pepper. Cook, stirring occasionally, until liquid is syrupy and coats garlic, about 15 minutes.
Scatter cheese over crust; top with spinach. Whisk crème fraîche, cream, and remaining eggs in a medium bowl; season with salt and pepper. Pour over spinach. Add garlic with any syrup. Bake until custard is set and golden brown in spots, 35–40 minutes. Let cool on a wire rack.
Adapted from http://www.bonappetit.com/recipe/caramelized-garlic-spinach-and-...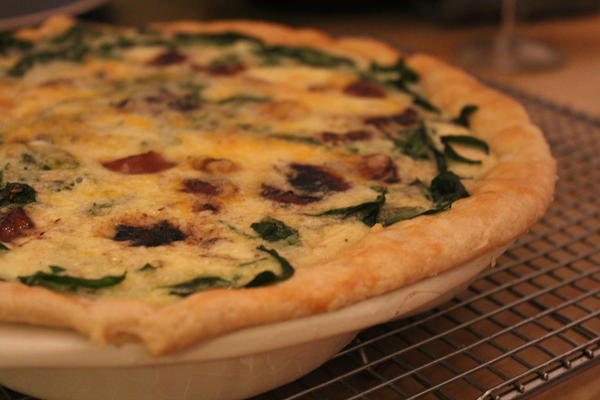 Season:

Cuisine:

Recipe: Course:

Recipe: Main Ingredient:

WikiTags: