Corn, Chili, and Cheese Salad
Easy and delicious Bon Appetit recipe. Also keeps well in the fridge for several days and, in some ways, improves over time.
4 ears of corn, husked
1 large shallot, thinly sliced into rings
1 red chile (BA recommends Holland or Fresno, but a Jalapeño will do), optionally deseeded, thinly sliced into rings
¼ cup fresh lime juice
Kosher salt and freshly ground black pepper
4 tablespoons vegetable oil, divided
2 oz. fresh Cotija cheese or queso fresco, crumbled
¼ cup cilantro leaves with tender stems
Prepare grill for medium heat.
Cut kernels from 1 corn cob and toss with shallot, chile, and lime juice in a large bowl.
Season with salt and pepper and set aside.
Brush remaining 3 ears of corn with 2 Tbsp. oil and grill, turning occasionally, until very tender and charred in spots, 10–12 minutes.
Let cool.
Cut kernels from cobs and add to reserved corn mixture along with cheese, cilantro, and remaining 2 Tbsp. oil.
Toss to combine; season with salt and pepper.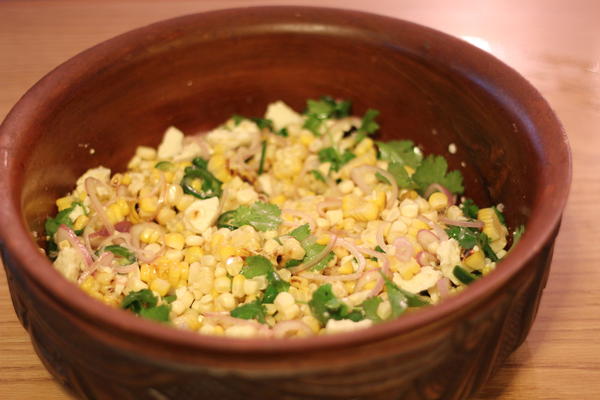 Season:

Cuisine:

Recipe: Course:

Recipe: Main Ingredient:

WikiTags: