Corn Fritters
2 large eggs
¼ cup all-purpose flour
2 tablespoons finely grated Parmesan
½ teaspoon kosher salt, plus more
2 cups fresh corn kernels (about 2 ears' worth)
2 scalliona, thinly sliced
1 jalapeño, seeded, finely chopped
2 tablespoons vegetable oil for frying
Sour cream and lime wedges (for serving)
In a food processor, pulse eggs to blend. Add flour, Parmesan, and ½ tsp. kosher salt and pulse until combined. Add corn, scallion, and jalapeño; pulse 3-5 times until a consistent, oatmeal-y texture.
Heat oil in a large nonstick skillet over medium to medium high heat. Working in batches, cook heaping tablespoonfuls of batter until golden brown, about 4 minutes per side; drain on paper towels and season fritters with salt.
Serve with sour cream and lime wedges.
Adapted from Bon Appetit: http://www.bonappetit.com/recipe/corn-jalapeno-fritters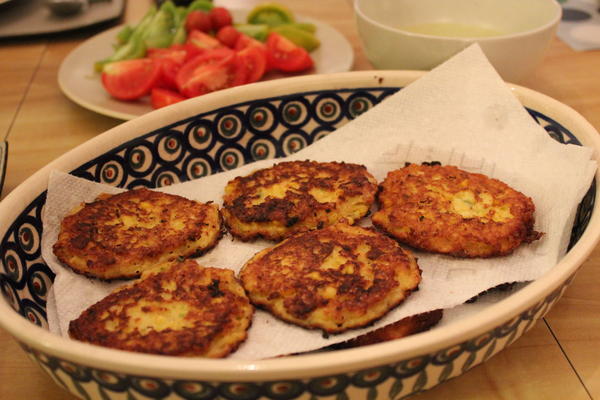 Season:

Cuisine:

Recipe: Course:

Recipe: Main Ingredient: