Green Gazpacho
A really nice alternative summer gazpacho. If you don't like vinegar as much as I do, feel free to reduce the vinegar and/or lime juice proportions to taste. Courtesy of Bon Appetit.
¼ cup white wine vinegar
2 tablespoons fresh lime juice (about 1 lime)
1 cup plain Greek yogurt, plus an optional ½ cup or serving
½ cup olive oil, plus more for drizzling
4 oz. ciabatta or country-style bread, crust removed, bread torn into 1" pieces (about 2½ cups)
1 medium English hothouse cucumber, halved lengthwise, seeds removed, cut into large pieces
1 green bell pepper, coarsely chopped
4 large tomatillos (about 12 oz.), husked, quartered
4 scallions, cut into 1" pieces
2 jalapeños, seeds removed, chopped
2 garlic cloves, finely grated
¾ teaspoon kosher salt, plus more
Piment d'Espelette or Hungarian hot paprika (for serving)
Whisk vinegar, lime juice, 1 cup yogurt, and ½ cup oil in a large bowl until smooth.
Add bread, cucumber, bell pepper, tomatillos, scallions, jalapeños, garlic, and ¾ tsp. salt and toss to coat (make sure bread is well coated so it can soak up as much flavor as possible).
Cover and chill at least 4 hours.
Working in batches, purée bread and vegetable mixture in a blender until very smooth; transfer to a large bowl and season to taste with salt.
Serve soup in chilled bowls.
Optional:
Whisk remaining ½ cup yogurt in a small bowl, thinning with water a tablespoonful at a time, until the consistency of heavy cream; season with salt.
Drizzle with thinned yogurt and more oil and sprinkle with piment d'Espelette.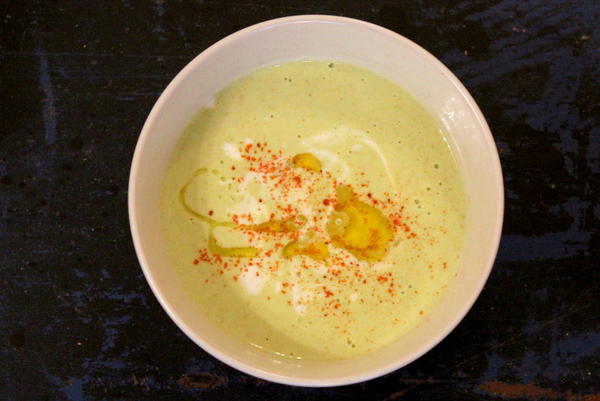 Season:

Cuisine:

Recipe: Course:

Recipe: Main Ingredient: