Creamy Macaroni and Cheese (w/ Ham)
This is a delightfully easy and delicious rendition of a creamy (vice baked casserole style) macaroni and cheese. I will admit that it is reminiscent of boxed mac n' cheese, but it is one of the few hot dishes our toddler will share with us. And although I have included ham here, it is entirely optional (and frankly just a great way to use up leftover Christmas ham). A tweaked version of this Southern Living recipe.
1 pound uncooked corkscrew or other short pasta
2 tablespoons butter
1/4 cup all-purpose flour
3 cups milk (any fat content will do)
1 (12-oz.) can fat-free evaporated milk
2 cups mostly shredded cheese (the first time I made this, I used 1 cup shredded gouda, 1/2 cup shredded cheddar, 2 slices american, and 1 fresh mozzarella cheese stick)
3 ounces cream cheese, softened
1/2 teaspoon salt
1/4 teaspoon mustard powder
1/8 teaspoon cayenne
1/8 teaspoon black pepper
1 cup (or more) chopped smoked ham (optional)
Optional secondary baking step:
1 cup panko or cornflakes cereal, crushed
1 tablespoon butter, melted
Preheat oven to 350° (if doing optional secondary baking step).
Prepare pasta according to package directions.
Assemble your cheese mix for later (mixed cheeses, cream cheese, and spices).
Meanwhile, melt 2 Tbsp. butter in a Dutch oven over medium heat.
Gradually whisk in flour; cook, whisking constantly, 1 minute.
Gradually whisk in milk and evaporated milk until smooth; cook, whisking constantly, 8 to 10 minutes or until slightly thickened.
Whisk in cheeses, cream cheese, and spices until smooth.
Remove from heat, and stir in ham and pasta.
At this point, you will be tempted just to serve it piping hot (...or eat it while standing at the stovetop). If, however, you fancy a slightly tastier dish with a more appealing presentation, you can make the optional topping:
Mix together the melted butter and panko (or cornflakes).
Spoon macaroni and cheese into a greased baking dish (a 13x9 should hold the whole thing, or portion into individual ramekins or other dishes).
Top with panko mixture.
Bake at 350° for at least 10 mins, or until panko is toasted. You can bake for a full 30 mins (or until pasta bubbling), if you can wait that long.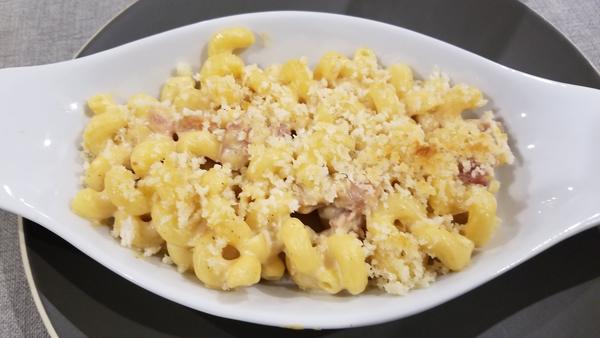 Season:

Cuisine:

Recipe: Course:

Recipe: Main Ingredient: