Eggnog cheesecake / pumpkin pie bars
1. Make a pie crust
Preheat oven to 325F .
Partially bake a double batch of pie crust spread out in a 9x13" casserole or baking dish. (Note, you'll only need 2/3rds of the crust here, but a single batch is not enough.
2. Make a pumpkin pie filling
3. Make the cheesecake layer:
16 oz cream cheese, softened
1/2 cup sugar
1 egg
1/3 cup eggnog
1 tablespoon all-purpose flour
Pinch nutmeg (if not already enough in eggnog)
In a large bowl or stand mixer fitted with the paddle attachment, combine cream cheese and sugar.
Beat until smooth.
Blend in egg and then the eggnog, flour, and nutmeg (if using).
4. Assemble and bake
Keep oven at 325F.
Once crust has returned to room-ish temperature, carefully spread the cheesecake batter over the crust.
Then pour the pumpkin pie filling over the cheesecake.
Bake in preheated oven for 35 to 40 minutes, or until center is almost set.
Allow to cool, then refrigerate for 3 hours or overnight.
Cobbled together from two recipes.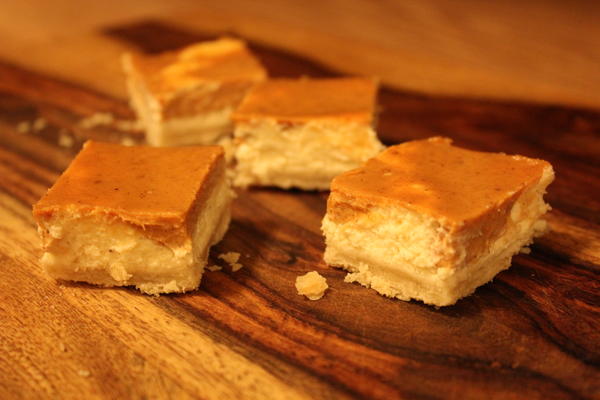 Season:

Cuisine:

Recipe: Course:

Recipe: Main Ingredient:

WikiTags: