Farro Pistachio Raisin Herb grainbowl
1½ cups cooked farro (~2 cups dry, cooked)
½ cup pistachios
2 cups coarsely chopped mixed fresh cilantro, mint, and parsley
⅓ cup golden raisins
1 serrano chile, sliced into rings
For the dressing:
1½ teaspoons finely grated lemon zest
3 tablespoons fresh lemon juice
1 teaspoon finely grated peeled ginger
½ teaspoon honey
⅓ cup olive oil
½ teaspoon kosher salt, plus more
Roast pistachios in a skillet over medium heat.
In a large bowl, combine cooled/drained cooked farro, pistachios, raisins, herbs, and chiles; toss to combine.
Drizzle with vinaigrette, season with salt and pepper, and toss to coat.

To make vinagrette: Whisk lemon zest, lemon juice, ginger, sugar, and ½ tsp. salt in a medium bowl. Whisking constantly, gradually add oil. Whisk until emulsified; season vinaigrette with salt and pepper. 

Adapted from: http://www.bonappetit.com/recipe/farro-with-pistachios-mixed-her...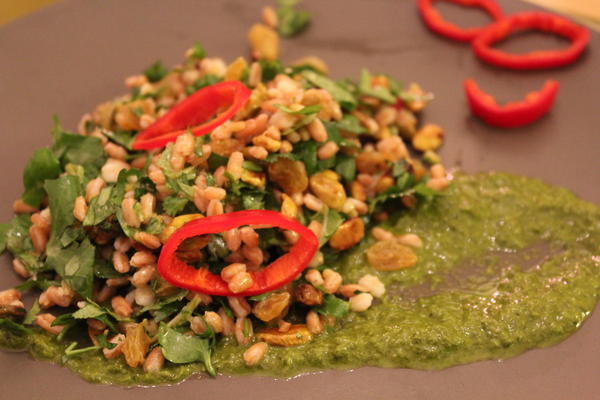 Season:

Cuisine:

Recipe: Course:

Recipe: Main Ingredient:

WikiTags: