Guinness Cottage Pie
This is an abomination, mixing in Guinness into a cottage pie.
The Guinness stew recipe parts are pulled from this recipe; the Shepherd's (lamb) and Cottage pie ingredients have been pulled from here and Epicurious. Cooking for Engineers has a nice pictoral guide.
Consider re-formulating this, or splitting it back out into a Guinness stew and a cottage pie.
For meat and vegetable filling
2 med onions, loosely chopped
1 medium leeks (white and pale green parts only), cut into 1/2-inch-thick slices
a pinch of cayenne
3 bay leaves
1 teaspoons chopped fresh thyme
1 cup carrots, cut into chunks
1 cup peas
1 lb meat - ground or cut into 1-inch cubes, ground beef or lamb shoulder
1 tablespoon salt
1 teaspoon black pepper
2 tablespoons all-purpose flour
2 1/2 tablespoons unsalted butter, softened
1 tbsp minced garlic
1 can Guinness
1 tablespoons tomato paste
1/2 cup beef broth
3 tablespoons flour
For mashed potato topping
1 lb russet (baking) potatoes
1/2 cup milk or cream
2 tablespoons unsalted butter
1/2 teaspoon salt
If using chunked meat, pat dry, springle with salt and pepper then shake with flour to coat.
Melt 2 tablespoons butter in a sautee pan, brown meat. Add garlic and cook, stirring, 2 minutes. Remove meat and deglaze with 1/2 cup guinness. Add in tomato paste and boil until reduced by half. Add broth, water, meat (with juices), onions, leeks, carrots, peas, seasonings, and remaining guinness.
Bring to a simmer over moderately high heat, add flour and reduce until thickened and the meat is tender (1 1/2 - 2 hours)
While the mixture is simmering, prepare and cook the potato topping:
Peel and quarter potatoes. Cover potatoes with salted cold water by 1 inch in a 4-quart heavy pot, then simmer, uncovered, until very tender, 20 to 25 minutes. Drain. Press through a potato ricer or mash.
Add in milk/cream and butter to a simmer in same pot over moderate heat, stirring occasionally until butter is melted, then remove from heat and stir in salt and pepper.
Spoon potatoes over lamb and vegetables and spread evenly with a fork, making a pattern with tines.
Broil about 3 inches from heat until top is golden, 3-5 minutes.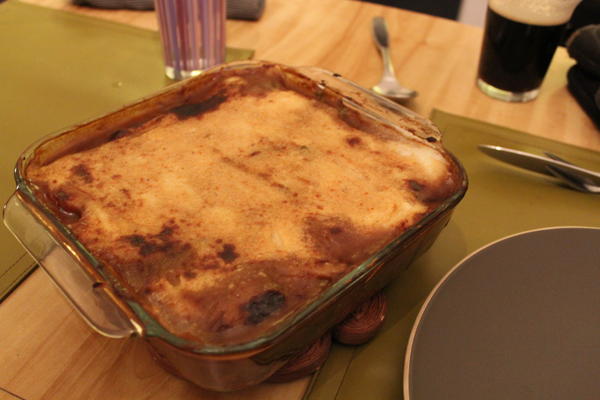 Season:

Cuisine:

Recipe: Course:

Recipe: Main Ingredient:

WikiTags: