Maurine's Chocolate Sheet Cake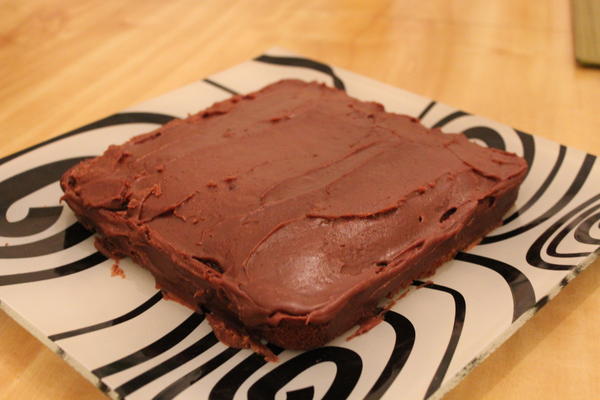 Cake Ingredients
2 cups sugar
2 cups flour
1/2 tsp salt
1/2 cup buttermilk*
1 tsp baking soda
1 stick butter
1/2 cup Crisco
4 Tbsp cocoa
1 cup water
2 eggs
1 tsp cinnamon**
1 tsp vanilla**
Frosting Ingredients
1 stick butter
4 Tbsp cocoa
1/3 cup milk
4 cups powdered sugar
1 tsp vanilla
Making the Cake
Preheat oven to 350/375 (depending on your oven).
Grease and flour a 11 x 16 inch shallow pan or 9 1/2 x 14 x 2 1/2 inch pan.
Sift together sugar and flour.
Add salt.
Mix together buttermilk and soda.
Add buttermilk/soda mixture to dry ingredients.
Meanwhile, bring butter, crisco, cocoa powder, and water to a boil in a medium saucepan.
Add boiled mixture to flour/sugar/buttermilk mixture.
Then add eggs, cinnamon, and vanilla to batter.
Pour into greased/floured pan
Bake at 350-375 degrees (depending on your oven) for about 20 to 25 minutes.
Icing the Cake
Wait until the cake is out of the oven to make the icing because it is easiest to ice a warm cake.
When cake is cool enough to handle, flip out of pan and onto serving platter, if desired.
To make icing, bring butter, cocoa, and milk to a good rolling boil (you can use the same saucepan as before...no need to wash!).
Add powdered sugar.
Add vanilla.
Stir together and then spread on hot cake.
*Note 1: If you don't have buttermilk, put 1 Tbsp vinegar or lemon juice into a measuring cup. Add milk to make one cup. Let stand 5 minutes.
**Note 2: These two ingredients add a warm spiced flavor that Audrey is not particularly fond of. For a more basic chocolate cake, omit these.
Cuisine:

Recipe: Course:

Recipe: Main Ingredient:

WikiTags:

Specialty Ingredients: