Parsley, Red Onion and Pomegranate Salad
1 medium red onion, thinly sliced
½ teaspoon sugar
½ teaspoon ground sumac
Kosher salt
1 tablespoon olive oil
1 tablespoon red wine vinegar
1 teaspoon pomegranate molasses or ½ tsp. honey
2 cups (lightly packed) fresh flat-leaf parsley leaves with tender stems
¼ cup pomegranate seeds
Toss onion, sugar, and sumac in a medium bowl; season with salt and let sit 30 minutes. Add oil, vinegar, and pomegranate molasses and toss to combine; let sit 5 minutes.
Just before serving, toss in parsley and pomegranate seeds; season with salt. Could add crumbled feta as well.
via http://www.bonappetit.com/recipe/parsley-red-onion-and-pomegrana...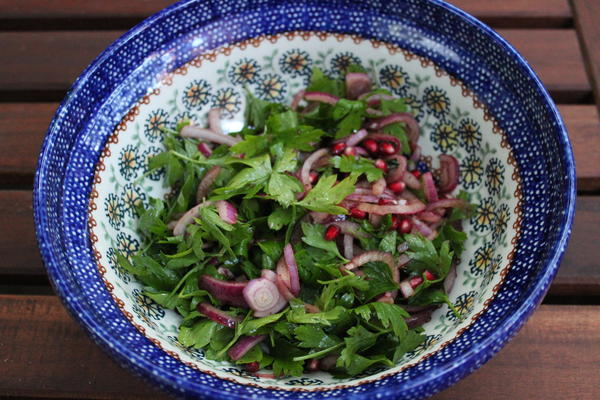 Season:

Cuisine:

Recipe: Course:

Recipe: Main Ingredient:

WikiTags:

Specialty Ingredients: