Red Wine-Braised Short Ribs
We merged a Bon Appetit recipe with a (strikingly) similar recipe from my canning book (which recommends topping the finished product with pickled red onions) and sprinkled it with input from Tom Colicchio.
Makes about 4 servings.
Ingredients
3 large bone-in beef short ribs (about 3 lbs), cut crosswise into 2" pieces (important to have butcher do this!!!)
Kosher salt and freshly ground black pepper
1.5 tablespoons vegetable oil
2 medium or 1 large onion, roughly chopped
2 medium carrots, peeled, roughly chopped
3 celery stalks, roughly chopped
1/2 small head of garlic, separated into cloves, peeled, and crushed
~2/3 of bottle dry red wine (preferably cabernet sauvignon)
2-3 cups low-salt chicken stock
5 sprigs fresh parsley
2 sprigs fresh oregano
4 sprigs fresh thyme
1 sprig fresh rosemary
1 fresh or dried bay leaves
[dried herbs can be substituted for fresh]
Preparation
Preheat oven to 350°.
Season short ribs with salt and pepper.
Heat oil in dutch oven over medium-high heat.
Working in batches, brown short ribs on all side until there is a nice crust, about 8 minutes per batch.
Transfer short ribs to a plate.
Pour off all but 1.5 Tbsp drippings from pot.
Add onions, carrots, celery, and garlic to pot and cook over medium-high heat, stirring often, until onions are browned, about 5 minutes.
Stir in wine and herbs and bring to a boil.
Add short ribs with any accumulated juices.
Add enough stock to cover ribs.
Return to a boil and cover.
Transfer dutch oven to preheated oven and cook until ribs are almost tender, 1.5-2 hours.
Uncover and cook further for 30-45 minutes to allow the sauce to reduce and the ribs to become fully tender.
Transfer short ribs to a platter.
Strain solids from sauce and spoon fat from surface of sauce and discard.
If necessary, reduce sauce further until you have about 2 cups of liquid.
Season sauce to taste with salt and pepper.
Serve and enjoy!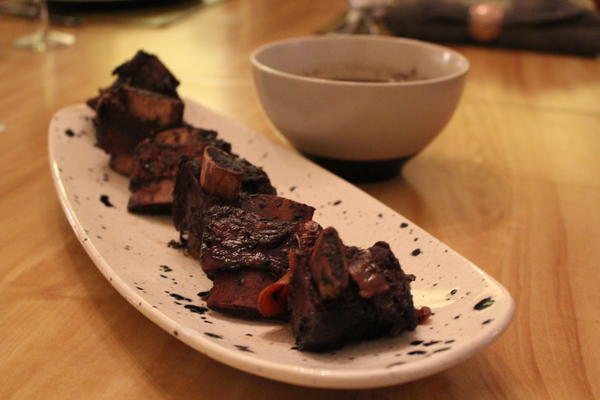 Season:

Cuisine:

Recipe: Course:

Recipe: Main Ingredient:

WikiTags: