Sephardic Charoset
A few years ago I started making sephardic-style charoset for Passover... and I never stopped. Although it is not the classic apple and walnut dish of my youth, I like the flavors better and I find it easier to manage on a piece of matzah with horseradish.
This year, I discovered this Serious Eats recipe, which I found not only tasty but also easy to make. Win win!
I halved the recipe to make an amount suitable for our coronavirus-bound nuclear family of 3, but it can easily be redoubled or tripled for a larger gathering. I also allowed for more flexibility in the specific fruits and nuts being used because (a) it's what I had on hand, and (b) I don't think it really matters all that much what fruit and nuts you use as long as you like them.
3/4 cup red wine
2 heaping cups dried fruit (I used a mix of dates, prunes, apricots, cranberries, raisins, and cherries)
1 heaping cup mixed nuts (I used mostly shelled pistachios and pine nuts with a sprinkling of almonds)
1/4 teaspoon cinnamon (or whole cinnamon stick)
1/8 teaspoon ground cloves (or 3 whole cloves)
Roughly chop all dried fruit so that it is a chunky consistency. No need to chop each fruit separately - one big pile worked just fine.
Bring wine to a light simmer on medium heat. [If using whole spices, add to wine and allow to steep for ~5 minutes. Remove before adding fruit.]
Stir in fruit and ground spices, if using.
Cook uncovered until fruit is well hydrated and wine has been absorbed, about 5 minutes.
In a food processor, roughly chop nuts in short pulses until you have smallish chunks. If you are using nuts that start as widely varying sizes (e.g. almonds + pine nuts), be sure to start with your larger nuts only and then add the smaller nuts so that the end result is more or less all a consistent size.
Add fruit mixture to food processor and pulse until fruit just begins to come together into a paste, 2 to 3 one-second pulses. Do not over-process—large chunks of fruit should be intact.
Transfer mixture to bowl and allow to sit at room temperature until ready to serve. (Or, keep in fridge for as many days as necessary util you are ready to use.)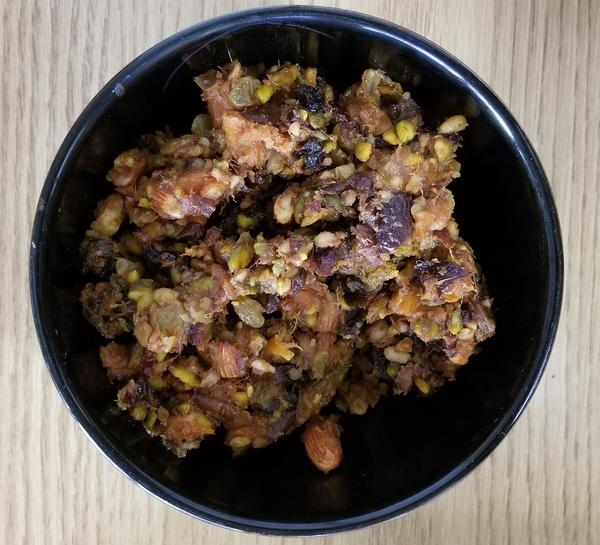 Season:

Cuisine:

Recipe: Course:

Recipe: Main Ingredient:

WikiTags: