Sharon's egg and chile souffle
3 large Hatch green chiles; roasted, chopped and seeded (or 2 small cans chopped green chiles)
1 can corn (optionally briefly blended with hand blender to break down)
1 small zucchini, sliced into half moons and salted for 10-30 minutes to release excess water
1/2 lb. Monterey Jack or Pepper Jack Cheese, grated
6 Eggs
8oz sour cream
Serves 4
Preheat oven to 375 degrees.
Mix chiles, corn, and zucchini in a bowl.
Layer chile mix with the grated cheese in an buttered or greased 13x9x2 inch baking dish.
Mix the eggs and sour cream until foamy, and pour over the chiles and cheese.
Bake for 35 minutes until it puffs like a souffle....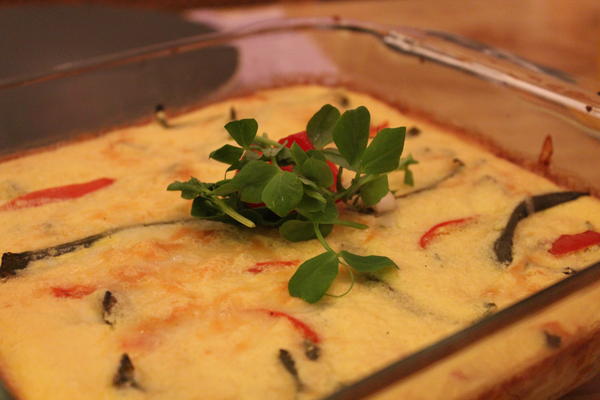 Season:

Cuisine:

Recipe: Course:

Recipe: Main Ingredient: