Shrimp Saganaki
Garides (Shrimp) Saganaki is one of Audrey's favorite dishes (though no longer on the menu) at Zaytinya, one of her favorite restaurants in DC. This recipe is a surprisingly easy replica of that dish. It's fast and can be made mostly with ingredients we already have in our kitchen.
Serves 2.
1/4 medium/large onion (any color), chopped
3 cloves garlic, chopped
1 (14oz) can diced tomatoes
1 Tbsp balsamic vinegar
Parsley, Rosemary, and Thyme (fresh or dried, to taste)
Salt and Pepper
1/2 pound shrimp, peeled and deveined
Kaseri cheese, sliced thin (can substitute your favorite mild melting cheese, like mozzarella or provolone)
Preheat oven to 400F.
Make tomato sauce with first 8 ingredients:
- Sautee onions and garlic
- Add tomatoes and balsamic vinegar
- Add spices
- Simmer until most of liquid is gone
Add shrimp to tomato sauce. Cook until shrimp is no longer translucent (1-2 mins at most).
Put tomato sauce / shrimp mixture into casserole dish. Cover with slices of cheese.
Bake in oven until shrimp are fully cooked and cheese is melted (5-10 minutes).
Serve and enjoy!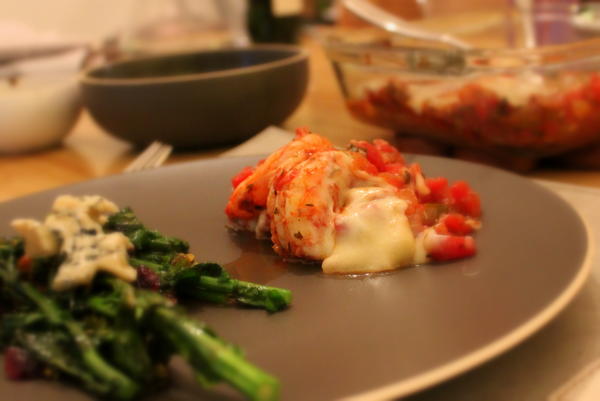 Cuisine:

Recipe: Course:

Recipe: Main Ingredient: