Smoked Salmon Crepe Pinwheels
A delicious and fun twist on Kevin Dundon's salmon cake recipe.
These are crepes, layered with cream cheese and smoked salmon (lox), rolled and cut into pinwheels. Great for a party!
2/3 cup AP flour
1 jumbo or 2 small eggs
about 1 cup milk
8oz smoked salmon slices
8oz whipped cream cheese (with herbs/chives if available)
1 tbsp snipped fresh chives, scallions, garlic, shallots, or your favorite herbs
juice of 1/2 lemon
To make the crepes, sift the flour into a bowl with a pinch of salt, then make a well in the center. Break the egg into the well and add a little of the milk. Mix the liquid ingredients together, then gradually beat in the flour until smooth. Beat in enough of the remaining milk until you have achieved the consistency of thin cream. Cover with cling film and leave to stand in the fridge for 20 minutes.
While the batter is in the fridge, mix the cream cheese in a bowl with the herbs and lemon juice. Season to taste.
Heat a heavy-based frying pan. When hot, brush with the minimum of oil. Pour a small amount of the batter, about a quarter of the mix is right. Swirl it around until it is evenly and thinly spread over the bottom. Cook over a moderate to high heat for about 1 minute or until the edges are curling and the underside is golden. Flip over and cook the second side for 30 seconds or so until golden.
Turn the crepe on to a plate and repeat until you have about 4-6 total, lightly oiling the pan between pancakes. Leave to cool.
Once cooled, lay the crepe flat. Spread a moderate amount of the cream cheese on the crepe. Top with a layer of lox. Roll up, cut into slices, and serve with a green salad.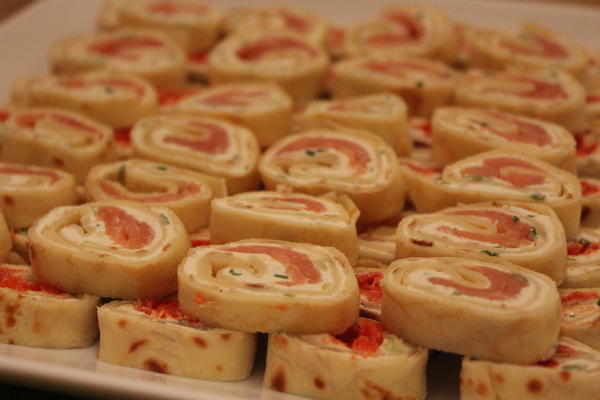 Season:

Cuisine:

Recipe: Course:

Recipe: Main Ingredient:

WikiTags: