Southwest Salmon
This recipe just sort of happened one day. We had some miscellaneous items we wanted to use up, and it turned out delicious! The amounts used here served 2.
Ingredients
Salmon (1/2-2/3 lb)
Southwestern seasonings (blend of salt, chipotle, dash chili powder, cumin, dash of coriander, lime juice)
Corn (1 ear)
Tomato (1 med, chopped)
Onion (1/2 small, chopped)
Cilantro (about 1/2 cup, separated from stalks)
Salsa / hot sauce (about 2 tbsp)
Lime (juice from 2 limes)
Make the salmon: prepare it for cooking and season it with a southwestern spice blend. In this case, we cooked the salmon on cedar planks on the grill, but the salmon could have easily been broiled or baked.
Make the southwest salsa: Boil the corn. Let cool. Cut kernels off ear. Mix kernels with tomato, onion, cilantro, hot sauce, and lime. Put in a sautee or saucier pan with a touch of olive oil and cook on medium heat for 5-10 minutes. Cool to warm before serving.
Assemble your meal: top the cooked salmon with generous servings of the southwest salsa.
Bon apetit!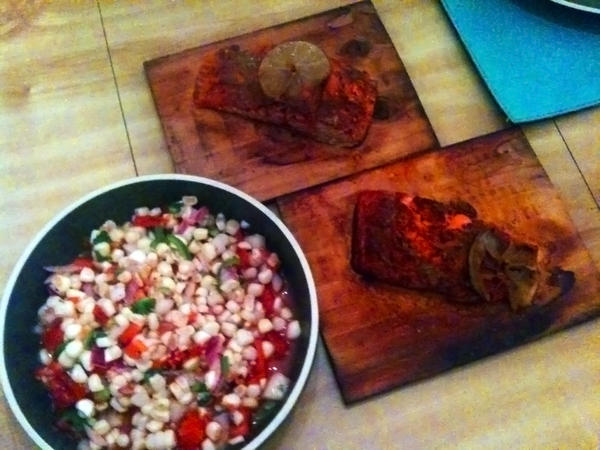 Season:

Cuisine:

Recipe: Course:

Recipe: Main Ingredient:

WikiTags: