Spiced Salmon Kebabs
Courtesy of Bon Appetit, an easy and tasty recipe with a middle eastern flavor profile.
Serves 2
1 tablespoon chopped fresh oregano
1 teaspoon sesame seeds
1/2 teaspoon ground cumin
1/2 teaspoon kosher salt
1/8 teaspoon crushed red pepper flakes
3/4 pound skinless salmon fillet (preferably wild), cut into 1-inch pieces
1-2 lemons, sliced into rounds approx 1/4" thick
2 tablespoons olive oil
Prepare grill for medium heat. Mix oregano, sesame seeds, cumin, salt, and red pepper flakes in a small bowl to combine; set spice mixture aside.
Beginning and ending with salmon, thread salmon and folded lemon slices onto flat skewers (or two parallel skewers). Brush with oil and season with reserved spice mixture.
Grill, turning occasionally, until fish is opaque throughout, 5–8 minutes.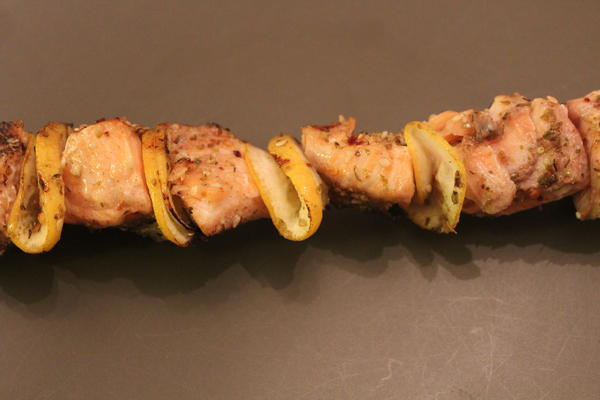 Season:

Cuisine:

Recipe: Course:

Recipe: Main Ingredient:

WikiTags: