White Bean Ragout
Based on this recipe from Bon Appetit, we modified it to use what we had on hand, and it turned out great.
1/2 large onion
1/2 red pepper
2 clove garlic (mince one, reserve one for the bread)
2 tablespoons marinara sauce (or tomato paste)
1 can (15oz) Cannellini beans (rinsed, drained)
1 cup vegetable broth
1 cup cherry tomatoes, halved
parmesan cheese, grated
extra-virgin olive oil
Kosher salt, freshly ground pepper
parsley, chopped (optional)
6 slices grilled or toasted ciabatta
Preheat oven to 375° (or use a toaster oven below)
Finely chop onion and red pepper.
Heat a decent amount of oil in a large heavy skillet over medium heat. Add onion and red pepper. Simmer, stirring often, until vegetables are completely softened, about 20 minutes. Add finely minced garlic and tomato sauce/paste and cook, stirring often, until tomato paste begins to turn deep red, about 3 minutes. If you need to, you can take this off the heat now to tend to the rest of the recipe.
Meanwhile, rub bread slices with cut sides of remaining garlic clove. Place bread on a baking sheet and sprinkle 1 Tbsp. Parmesan over each slice. Toast until cheese begins to brown, about 5 minutes. Set aside.
Heat the onion/pepper mixture with the beans in same skillet over medium-high heat. Cook, stirring often, until heated through, about 1 minute. Stir in most of the broth; bring to a boil. Simmer, scraping up browned bits, until liquid is slightly thickened, 3–4 minutes.
Add cherry tomatoes and remaining broth; simmer until tomatoes are tender, 3–4 minutes.
Stir in 2 Tbsp. Parmesan. Season with salt and pepper.
Serve: Divide bread among bowls. Top with some bean mixture and broth. Garnish with remaining 2 Tbsp. Parmesan and parsley. Drizzle with oil, if desired.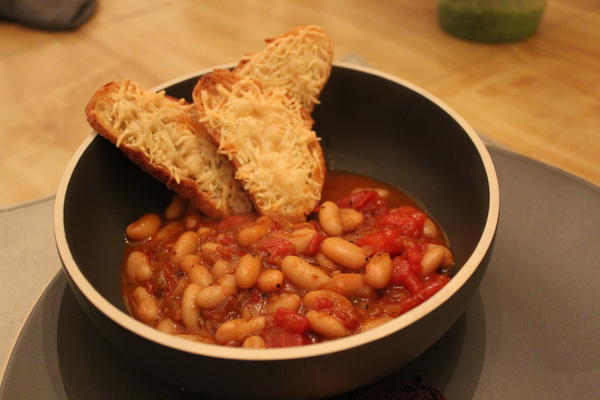 Season:

Cuisine:

Recipe: Course:

Recipe: Main Ingredient: