Barley Risotto
1 cup pearled barley
8 cups vegetable or chicken broth
3 tablespoons unsalted butter, divided
1 medium onion, finely chopped
Kosher salt and freshly ground black pepper
2 teaspoons chopped fresh thyme
1 bay leaf
2 cups baby spinach
1 cup parsley, thick stems removed
2 tablespoons olive oil
1 garlic clove, finely grated
1 teaspoon finely lemon zest
1 tablespoon lemon juice
1 cup finely grated Parmesan
⅓ cup chopped tender herbs (such as tarragon and/or chives)
Preheat oven to 350°. Toast barley on a rimmed baking sheet until light golden brown and fragrant, 8–10 minutes. Set aside.
Bring broth to a boil in large saucepan; reduce heat to low and keep broth warm.
Heat 1 Tbsp. butter in a large skillet over medium heat. Add onion, season with salt and pepper, and cook, stirring often, until softened and translucent, about 5 minutes.
Add barley, thyme, bay leaf, and 2 cups warm broth to skillet and bring to a boil. Reduce heat and simmer, stirring often, until broth is almost absorbed, about 5 minutes. Add remaining broth by ½-cupfuls, allowing it to be absorbed before adding more and stirring often, until barley is tender and mixture is creamy, 45 minutes — 1 hr (you may not use all the broth). Remove bay leaf.
Meanwhile, blanch spinach and parsley in a large pot of boiling salted water until leaves are bright green and just wilted, about 5 seconds. Drain; transfer to a bowl of ice water and let cool. Drain and squeeze well to remove excess water.
Coarsely chop spinach and parsley, then purée with oil and a splash of water with a hand blender, adding water as needed, until smooth. Set spinach purée aside.
Mix garlic, lemon zest, and lemon juice into barley mixture, then mix in Parmesan ¼-cupful at a time, stirring until melted and well combined before adding more. Mix in remaining 2 Tbsp. butter.
Remove barley risotto from heat and mix in spinach purée and herbs; season with salt and pepper.
Via http://www.bonappetit.com/recipe/toasted-barley-risotto-with-spi...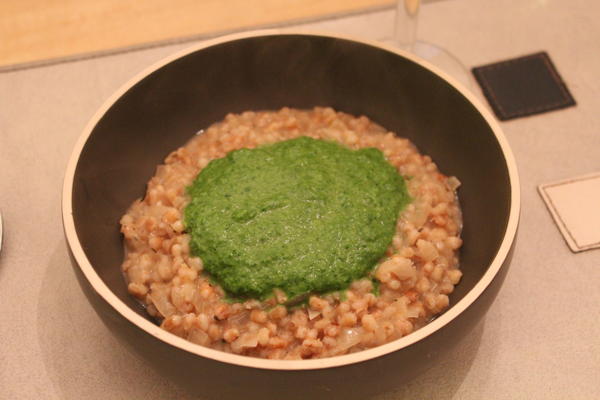 Season:

Cuisine:

Recipe: Course:

Recipe: Main Ingredient: