Chicken Enchiladas
After many tries, we've settled on this yummy chicken enchiladas recipe. Makes about 4 big enchiladas.
Ingredients:
Non-breast parts of a rotisserie chicken (bought at Eastern Market), torn into pieces
Green chiles (hatch/anaheim chiles, canned works)
1 Onion, chopped
Flour tortillas
Enchiladas Sauce (see below)
Jack Cheese (Pepperjack, if you want a little kick)
Make Enchilada Sauce
Mix together:
1/2 cup of you favorite salsa / hot sauce (use Salsa Verde for a "suizas" enchilada)
1 cup sour cream
1/4 cup of reduced chicken broth (the drippings of a rotisserie chicken work well too).
Consistency should be like yogurt - not too thin, thick. Adjust ratio to taste / correct consistency.
Make Enchiladas Filling:
Chop up onions and green chiles and sautee until soft. Mix with chicken, small amount of shredded jack cheese, and small amount of enchilada sauce.
Make Enchiladas:
Roll enchilada filling into flour tortillas. Place into clear pyrex. Cover with enchilada sauce and shredded cheese.
Bake at about 375 for 20 mins or until it smells good.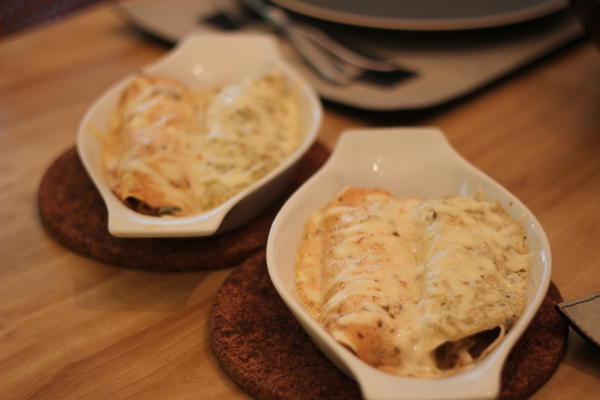 Season:

Cuisine:

Recipe: Course:

Recipe: Main Ingredient: