Huevos Rancheros
A tasty and relatively easy recipe with a great classic red sauce. The original recipe linked below uses canned chipotles, but this has been adapted to use more dried chiles, as the heat from the canned chipotles overpowers the eggs.
Sauce
4-6 whole dried chipotles (only 2-3 canned)
1/4 cup canola oil, divided
1 small yellow onion, thinly sliced
4 medium cloves garlic, thinly sliced
1/2 teaspoon dried oregano
1 (14-ounce) can crushed tomatoes, preferably fire-roasted (such as Muir Glen)
1/4 cup minced fresh cilantro leaves and fine stems, plus more for serving
1 tablespoon soy sauce
1 tablespoon juice from 1 lime, plus lime wedges for serving

Kosher salt and freshly ground black pepper

Up to 12 fresh corn tortillas (2 per serving)

Up to 12 eggs (2 per serving)
Crumbled cotija cheese, for serving
Refried or well-cooked-down pinto beans, warmed.
Sauce
Remove tops and seeds of chiles. If dried, microwave until pliable and fragrant, 15-30 seconds. Immediately Cut chilies into thin strips using kitchen shears or a sharp knife.
Heat 1 tablespoon oil in a medium saucepan over medium-high heat until shimmering. Add onions and garlic and cook, until starting to brown. Add oregano and chili strips and cook until fragrant, about 15 seconds. Add tomatoes and bring to a simmer. Reduce heat to maintain a gentle simmer for 10 minutes.
Puré mixture. Stir in cilantro, soy sauce, and lime juice and season to taste with salt and pepper. Set aside.
Construction
Heat 3 tablespoons oil in a non-stick skillet over medium heat until shimmering. Working one at a time, fry corn tortillas until lightly browned but still pliable, about 15 seconds per side. Transfer to a paper towel to drain and stack them as you work, keep warm.
When tortillas are cooked, reheat skillet over medium-high heat until oil is shimmering (add more oil if necessary). Fry eggs, using a spoon to baste the tops with hot oil as they cook in order to help set the upper whites while keeping the yolk completely liquid. Fry until crisp on the bottom, whites are set, and yolks are golden.
To serve, smear each tortilla with beans, then top with a fried egg. Spoon salsa over, leaving yolks exposed.
Sprinkle with cotija cheese and more chopped cilantro.
Adapted from: http://www.seriouseats.com/2015/04/how-to-make-traditional-huevo...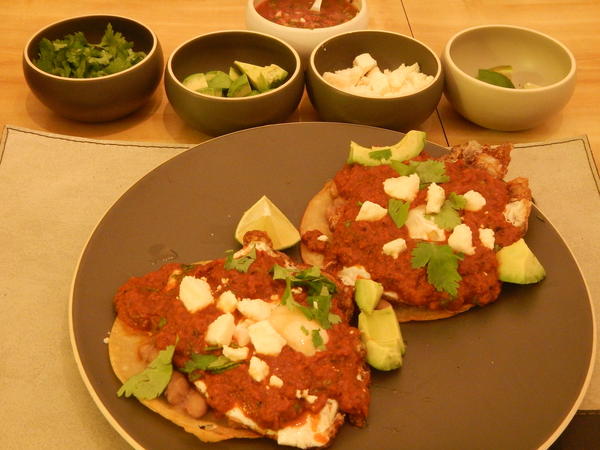 Season:

Cuisine:

Recipe: Course:

Recipe: Main Ingredient: