Classic Red Mole Poblano
Having just returned from Mexico, we were craving Mexican food. We decided to take on the ultimate: Mole. We headed up to our local latin-american superstore market to pick up the necessary ingredients. Because we couldn't exactly get everything we needed, here's the record of what we actually did (and how it turned out). Our recipe is basically the ingredients list from Fonda San Miguel, a delicious Mexican restaurant in Austin, with the process taken from Nuevo Mexican guru Rick Bayless.
Mole

Ingredients
4 - 5 tomatillos
4 garlic cloves
6 pasilla chiles (original recipe called for 7)
15 ancho chiles (original recipe called for 6 anchos, 9 mulatos, but we couldn't find any mulatos at all)
5 whole cloves
20 whole black peppercorns
1-inch piece of a Mexican cinnamon stick
1 tablespoon seeds from the chiles
1/2 cup sesame seeds
1/2 teaspoon anise seeds
1/4 teaspoon coriander seeds
1 cup plus 9 tablespoons lard (or vegetable oil)
3 tablespoons raisins
20 whole almonds
1/4 cup pumpkin seeds
2 corn tortillas, torn into pieces
2 flour tortillas, torn into pieces (recipe calls for 3 stale French rolls or pieces of dense bread, cut into 1-inch slices, but we didn't have any)
2 ounces Mexican chocolate, chopped
6 - 7 cups turkey broth as needed (recipe called for chicken broth, but seeing as we had turkey broth, and mole way back when was served with turkey, we thought turkey broth would be okay too; can sub in veg broth as well to make it vegetarian-friendly)
1/3 to 1/2 cup sugar
1. Preliminary steps.
On a rimmed baking sheet, roast the tomatillos 4 inches below a very hot broiler until splotchy black and thoroughly soft, about 5 minutes per side. Scrape into a large bowl.
At the same time as roasting the tomatillos, roast the garlic on a separate baking sheet. Set aside.
Clean the chiles by removing stems, veins and seeds; reserve 1 tbsp of seeds. Tear chiles into large pieces.
In a dry skillet over medium heat, toast the reserved chile seeds, sesame seeds, anise seeds, and coriander seeds, stirringly nearly constantly, until golden, about 5 minutes. If desired, roast additional sesame seeds to reserve for sprinkling on top as a garnish.
In a coffee or spice grinder, grind the cloves, peppercorns, cinnamon, and toasted seed mixture. Set aside.
If desired, parboil chicken (to add back into the mole right before serving). If doing this, you can use the chicken cooking liquid as the broth called for in this recipe.
2. Brown ingredients.
Turn on an exhaust fan or open a kitchen door or window. In a very large soup pot (such as a 12-quart stainless steel stock pot or a medium-large Mexican earthenware cazuela), heat the lard or oil over medium. When quite hot, fry the chiles, three or four pieces at a time, flipping them nearly constantly with tongs until their interior side has changed to a lighter color, about 20 or 30 seconds total frying time. Don't toast them so darkly that they begin to smoke—that would make the mole bitter.
As they're done, drain them on paper towels, being careful to drain as much fat as possible back into the pot. Put in a large bowl, cover the toasted chiles with hot tap water and let rehydrate 30 minutes, stirring frequently to insure even soaking.
Remove any stray chile seeds left in the fat. With the pot still over medium heat, fry the following ingredients and remove/drain with a slotted spoon. If necessary, add more oil/lard as you go. As each of these things come out, you can add them to the same bowl.
Fry the almonds until they are golden brown, about 5 minutes.
Fry the raisins until they puff up and are browned slightly (20 or 30 seconds).
Fry the pumpkin seeds until they pop.
Fry the tortilla pieces (and bread slices) until golden brown, about 15 seconds per side.
3. Puree time
First the chiles:
Drain chiles, reserving soaking water if it's not bitter. If bitter, just use regular water. You'll need about 4 cups total of either soaking water, regular water, or a mixture of both.
Scoop half of the chiles into a blender, pour in enough of the soaking liquid or water (about 1-2 cups) and blend to a smooth paste. It may be necessary to scrape down the sides and blend several times to obtain a smooth paste. Press through a medium-mesh strainer into a large bowl; discard the bits of skin and seeds that don't pass through the strainer. Repeat with the remaining chiles.
Then the tomatillos and everthing else:
Puree tomatillos in a blender.
Add spice/seed mixture, garlic, and chocolate to the pureed tomatillos and blend until smooth. Then add raisins, almonds, pumpkins seeds, tortillas, and bread to the tomatillo puree and blend, using 1 to 2 cups chicken broth, as needed, to make a smooth sauce. This may have to be done in batches.
4. Cooking time
In a heavy Dutch oven heat an additional 1/2 cup oil over medium heat.
When quite hot, pour in the chile puree—it should sizzle sharply and, if the pan is sufficiently hot, the mixture should never stop boiling. Stir every couple of minutes until the chile puree has darkened and reduced to the consistency of tomato paste, about a half hour. (Cover the pot with a splatter screen to catch any splattering chile.)
When the chile paste has reduced, add the tomatillo mixture to the pot and cook, stirring every few minutes until considerably darker and thicker, 15 to 20 minutes. (Again, a splatter screen saves a lot of cleanup.)
5. Simma down
Add remaining 5 cups chicken broth, and briskly simmer the mixture over medium to medium-low heat for 1-2 hours for all the flavors to come together and mellow. If the mole has thickened beyond the consistency of a cream soup, stir in a little water. Taste and season with salt (usually about 4 teaspoons) and sugar.
6. Serve!
If you have parboiled chicken to add in, add it during the last 15 minutes and heat through. Garnish with toasted sesame seeds, if desired, and serve with white rice.
Alternatively, you can stop here and use the mole in other recipes. It can be cooled, covered, and refrigerated until you're ready to use. When you're ready to proceed, rewarm the mole.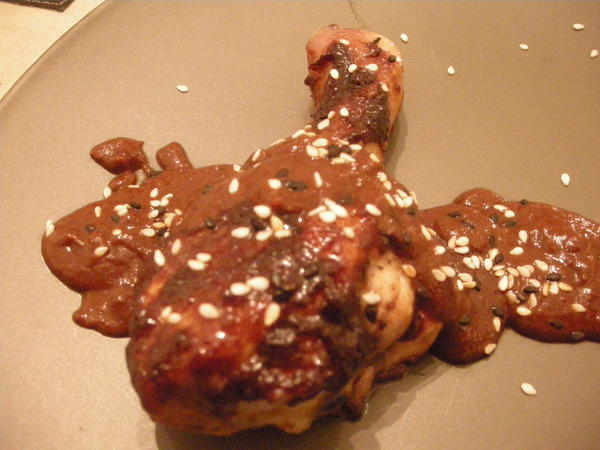 Season:

Cuisine:

Recipe: Course:

Recipe: Main Ingredient:

WikiTags:

Specialty Ingredients: