Mustard-Crusted Branzino
For some reason, Bon Appetit recommends using a whole butterflied fish, but that just presents you with many small bones to deal with. This dish will be equally good with filets. Serves 2 and can easily be doubled.
2 branzini/ Mediterranean sea bass filets
1/8 cup olive oil
1 tablespoons whole grain mustard
1 small garlic clove, finely grated
1/2 tablespoon chopped fresh thyme
1/2 cup panko breadcrumbs (or fresh coarsely chopped breadcrumbs, preferably sourdough)
Kosher salt and freshly ground black pepper
Lemon wedges (for serving)
Preheat oven to 450°.
Whisk oil, mustard, garlic, and thyme in a small bowl.
Using a rubber spatula, mix in breadcrumbs, squeezing or pressing to saturate bread, until evenly coated; season with salt and pepper.
Place fish, skin side down, in a large ovenproof pan or on a rimmed baking sheet lined with parchment paper; season with salt and pepper.
Top with breadcrumb mixture, pressing to adhere.
Roast until breadcrumbs are golden brown and fish is cooked through, 10–15 minutes.
Serve fish with lemon wedges.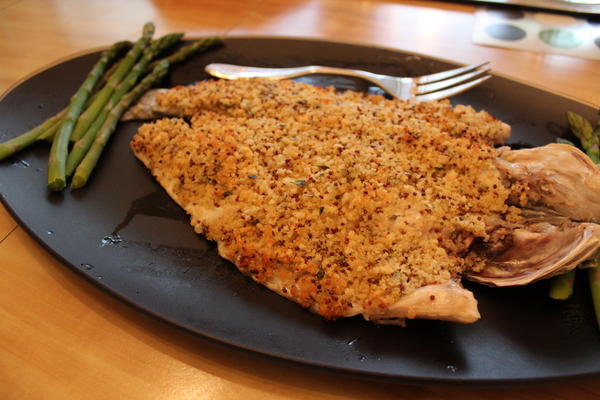 Season:

Cuisine:

Recipe: Course:

Recipe: Main Ingredient: