Poached Salmon with Peas and Mushrooms
This recipe, modified from a Bon Appetit recipe, was an instant spring hit.
2 6–8-ounce center-cut wild king salmon fillets (each about 1 1/2-inch thick)
1 cup dry white wine
2 tablespoons kosher salt plus more for seasoning
2 tablespoons (¼ stick) unsalted butter
4 ounces fresh morels; sliced, or oyster or shiitake
½ cup shelled fresh peas
⅓-⅔ cup heavy cream
Freshly ground black pepper
2 tablespoons minced fresh chives or finely chopped garlic scapes
In a high-walled saucier or skillet, place salmon, skin side down. Add wine, 2 Tbsp. salt, and cold water to cover salmon by 1/2". Cover and bring liquid to a simmer over medium-high heat.
Reduce heat to medium-low, uncover, and gently poach salmon until just cooked through and barely opaque in the center, about 6 minutes, depending on thickness. Transfer salmon and 2 Tbsp. poaching liquid to a plate; tent loosely with foil.
Meanwhile, melt butter in a medium skillet over medium heat. Sautee chives and then add mushrooms and cook, stirring occasionally, until they begin to soften, about 3 minutes.
Add 1/3 cup salmon poaching liquid and simmer until the liquid is reduces by half, 3-4 minutes. Add cream and peas, bring sauce to a simmer. Cook until slightly thickened, about 5 minutes. Season to taste with salt and pepper. Note: if, by some horrific coincidence, you're using frozen and thawed peas, add them with the salmon liquid instead.
Transfer salmon, skin side up, to paper towels. Gently peel off and discard skin. Invert salmon onto serving plates and spoon mushroom sauce over. Garnish with more chives, and a pea shoot.
Make it a full dinner - serve with a mix of sauteed asparagus chopped garlic scapes with shallot, deglazing with a bit of extra wine, and a green salad with fresh peas and mixed spring greens with pea shoots.
Original recipe at: http://www.bonappetit.com/recipes/2012/05/poached-wild-salmon-wi...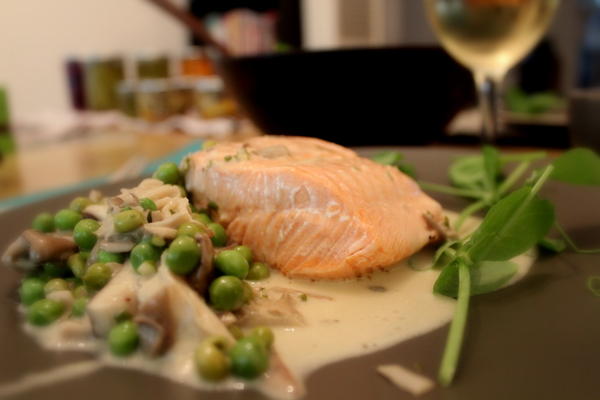 Season:

Cuisine:

Recipe: Course:

Recipe: Main Ingredient:

Specialty Ingredients: