Seared Scallops with Pommes
This was in response to our taking advantage of a recent livinggrouponsocial deal with Arganica, and opting for one of their more CSA-like "give me a box of random local, organic goodies." We're already, honestly, pretty damned tired of kale and brussel sprouts, and hoped this would provide something slightly different. We got... chard and turnips. Well, OK. The dinner turned out quite good, and is somewhere between classic French and New American. We made the chard into a warm salad by wilting it and steaming it with a bit of apple cider, then tossing it with vinegar and adding pecans. Great seasonal meal for that end-of-winter desperation. Well, except for the scallops part.
Prepare the turnips as a puree with rice, from Mastering the Art of French Cooking, Vol II, available online here. Keep warm. You'll need turnips, rice, butter or cream, milk and thyme for this.
Sea (large) scallops (3-4 per person)
1-2 apples
1 lemon (optional)
1 cup apple cider or juice
1/2 cup apple cider vinegar
1/2 oz brandy or whiskey
1 Tbsp sugar
Lots of butter
A bit of a high-heat oil (safflower, optional)
Thinly slice apples longitudinally to get enough slices to match with the amount of sea scallops you're preparing. Optionally fine;y dice the leftover pieces of apple and toss with lemon juice to make a quick relish to top with.
Rinse and pat dry the scallops.
Caramelize the apple slices in butter, sprinkling a dash of sugar on top to speed the process. Apples should char slightly. Plate the apples.
In the apple sautee pan, add apple cider (or juice) and apple vinegar in a 4:1 measure. Bring to a simmer, add unsalted butter and the alcohol. Continue to add butter (for ~1.5 cups of initial liquid, I used ~3TBSPs of butter) as it reduces, to thicken. It should approach a thick syrup. When syrupy, use to decorate plate with a big spoonful of each smeared across. Reserve some to top the scallops with.
In a separate, stainless-steel (not non-stick) pan, heat butter mixed with a higher-heat oil (safflower). Sear the scallops until lightly browned and opaque throughout, 1-2 minutes per side.
Place on top of the apples, lightly daub with the reduction, and serve with the warm puree.
I'd consider adding a dash of cinnamon into the preparation, but it would be difficult to do this without overpowering the poor scallop.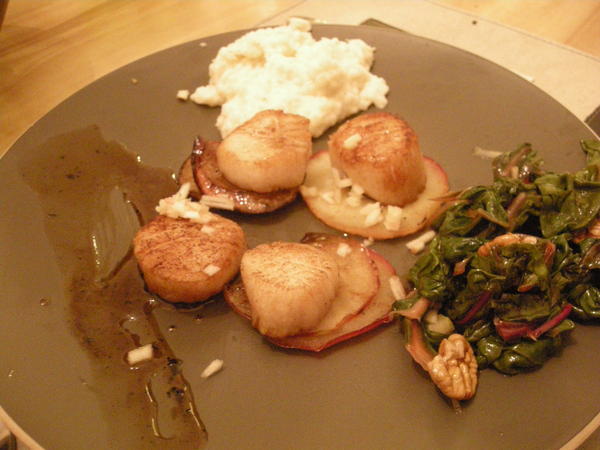 Season:

Cuisine:

Recipe: Course:

Recipe: Main Ingredient: